Share:

Silver gets left out of broad-market risk-on party.
XAG/USD backslides from $23.10 to trade into familiar lows.
Risk appetite returns as investors herald the perceived end of Fed rate hikes.
Silver is getting left out of the broader market's post-Federal Reserve (Fed) celebration after Fed Chairman Jerome Powell struck a more dovish tone than many expected, and investors are stepping back into risk assets in anticipation of the formal end of the Fed's rate hike cycle. 
Traders will now be looking ahead to eventual rate cuts from the Fed and jostling for position. Current markets are pricing in rate cuts to begin sometime in the latter half of 2024.
Despite the market's resurgence in risk appetite, Silver has been left out in the cold, with the XAG/USD getting left out in the cold.
Spot Silver bids have fallen back for the day even despite a bounce late in the US session, marking in the day's current low bid at $22.65.
XAG/USD Technical Outlook
Spot Silver bids feel from the day's early high of $23.12, getting knocked back below the $23.00 handle to trade in the sub-$22.80 region as XAG/USD returns to near-term swing low territory.
XAG/USD set an early week peak of $23.60 in Monday's rally that sent Spot Silver climbing almost 2.5%, but the week's cart action finds Silver testing back into familiar lows.
Despite April's double-top rally into the $26.00 handle, XAG/USD has spent most of 2023 cycling $23.00, and a notable lack of directional momentum in either direction leaves Silver hamstrung in the midrange, sticking close to the 200-day Simple Moving Average (SMA) that is currently grinding lower from $23.50.
XAG/USD Daily Chart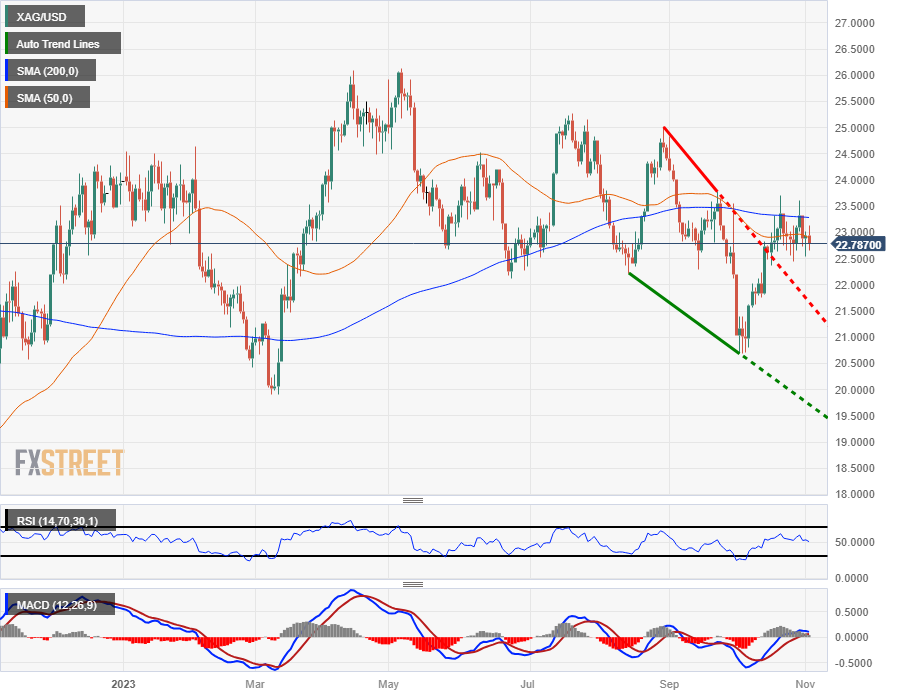 XAG/USD Technical Levels