So, you've decided to start speculating with BTCUSD, and you want to take a look at BitDooZER. Good. Let's take a closer look. There's a difference between Bitcoin per se and the BTCUSD currency pair. The latter is obviously a cross between Bitcoin and the United States Dollar. There are a few pros and cons to trading this pair, and you should decide what carries more weight for you:
PROS of trading BTCUSD

You can trade the whole weekend.
Brokers should not apply any comission on it.
More "independent" pair, not dependant on any government.
Less prone to news impact (only USD).
Usually no news during the weekend, which is when we want to trade.
CONS of trading BTCUSD

Basically, everything comes down to the large volatility of the pair. It behaves in a very different way than any other standard currency pair, at times a bit oddly. Pair like GBPUSD or USDJPY are volatile but you can see they kind of maintain the same range. The BTCUSD pair looks calm at times and then spikes all of a sudden. That makes it a bit dangerous if you're planning on trading the pair on a regular basis.
With this in mind…

…we don't recommend trading the BTCUSD pair during weekdays because it can be hard to predict and is not as "calm" as any other forex pair, at least in theory. Therefore we started looking closely at the behavior of the currency during the weekends, and it quickly became clear that the pair behaves in a way calmer manner during the weekend than it does during weekdays. This shouldn't be a surprise since the ForEx market is closed, but at the same time it opened the door to starting exploring trading the pair ONLY during the weekend and NOT during weekdays.
The daily chart below highlights in orange the weekends compared to the weekdays (not highlighted). As you can observe, the two daily candles of every weekend have a very narrow range in most of the cases compared to the candles from Monday thru Friday.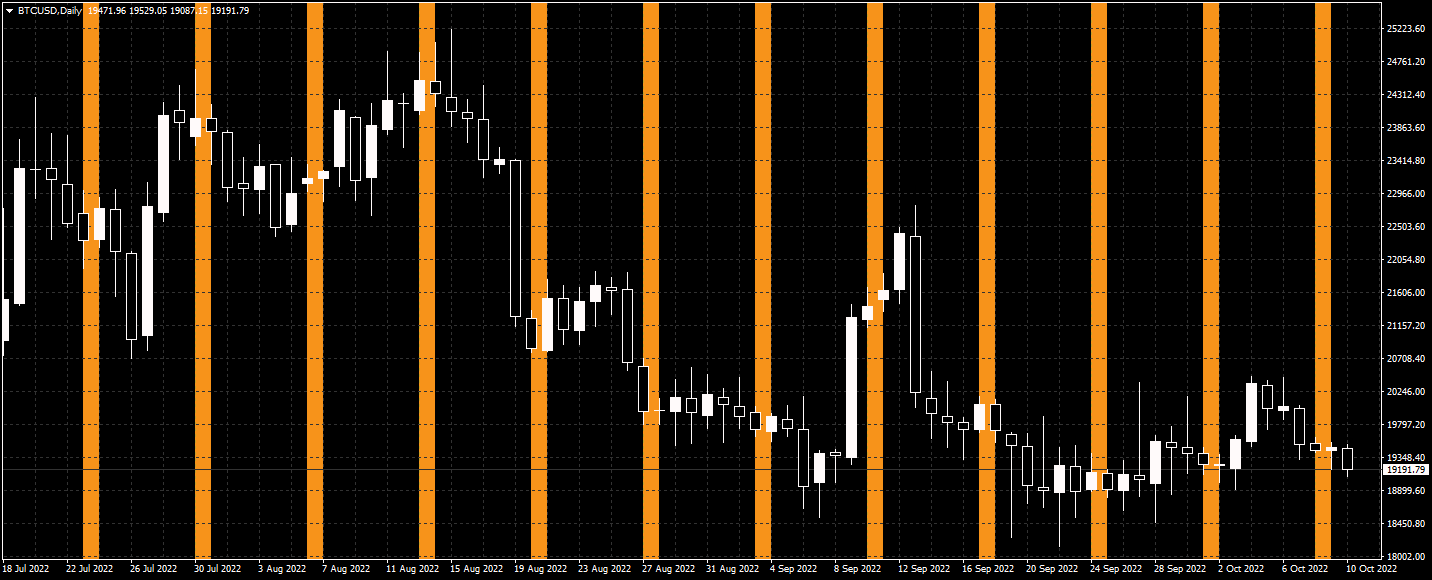 So, in conclusion, we created BitDooZER as a fork or little brother to DooZER to trade only BTCUSD but during the weekend. As a consequence of this, we do not recommend using BitDooZER during weekdays due to the high volatility of the symbol, as already mentioned. Also, the behavior of the pair is very different from the EURUSD, NZDCHF or EURCHF, and the internal logic and values are adjusted in BitDooZER only for BTCUSD. Therefore if you use BitDooZER for other pair such as EURUSD, keep in mind that internal values such as Take Profit, tolerance to spread, entry and exit points will be very far from optimum. For EURUSD you should use the "big brother" DooZER instead.