Share:

The USD/CHF is seeing a thin bounce for Friday, churning towards 0.9050.
The pair is holding steady after falling into the median range near major moving averages.
Up Next: On Tuesday, an appearance from SNB Chair Thomas Jordan, US CPI inflation.
The USD/CHF is on the high side for the week after Federal Reserve (Fed) Chairman Jerome Powell propped up the US Dollar (USD) with hawkish comments, sending broader market sentiment into a tailspin.
The USD has seen some weakness against the Swiss Franc (CHF) through October and November, and remains down 2.25% from October's peak near 0.9245. 
Coming up next week, early Tuesday sees Swiss National Bank (SNB) Chairman Thomas Jordan will be delivering the opening remarks at the Third High-Level Conference on Global Risk, Uncertainty, and Volatility, in Zurich.
Later that same day will be US Consumer Price Index (CPI) inflation, and investors will be drawing additional focus to the headline figures after the Fed's hawkish showing this week.
USD/CHF Technical Outlook
The USD/CHF has been cycling around the 200-day Simple Moving Average (SMA) since September, drawing out a constraining range from 0.9100 to 0.8900, but the pair's long-term bullish momentum from July's bottom near 0.8550 sees the 50-day SMA confirming a bullish cross of the longer moving average.
This week saw a decline into 0.8950 on Monday before the USD recovered into the week's midrange, seeing a bullish push on Thursday and holding steady at the top end for Friday.
USD/CHF Daily Chart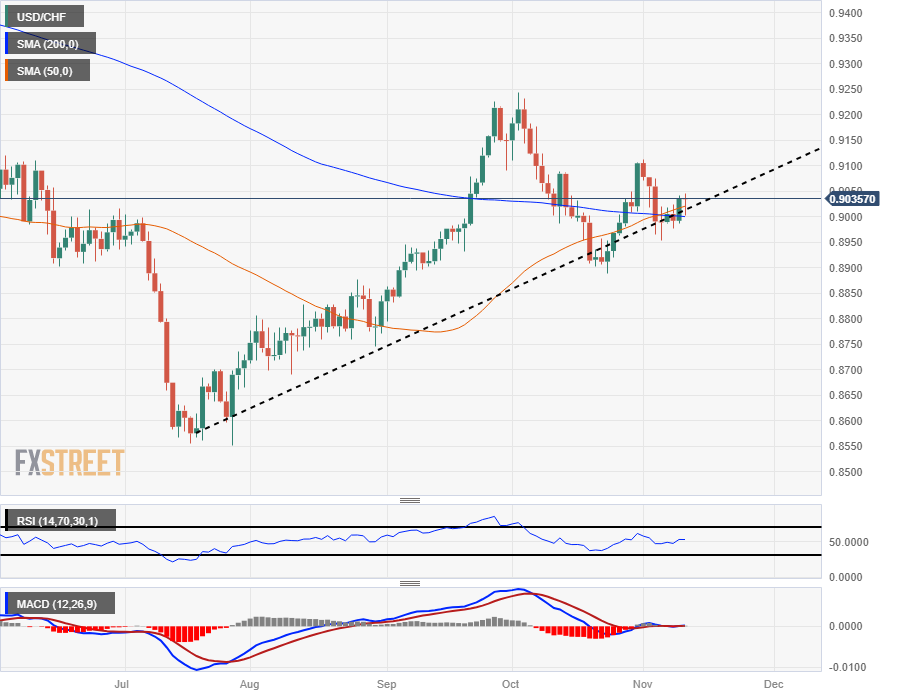 USD/CHF Technical Levels