Share:

S&P 500 rises 1.54%, closing at 4,414.57, marking its seventh consecutive week of gains.
Nasdaq 100 and Dow Jones Industrial also post gains, with technology and consumer sectors leading.
Market players overlook Fed Chair Jerome Powell's hawkish comments, focusing instead on mixed economic data.
Upcoming week to focus on US inflation data, unemployment claims, and further commentary from Federal Reserve officials.
Wall Street is set to finish the week with gains, as the S&P 500 prints solid gains above the 4,400 figure, shrugging off a deteriorated consumer sentiment, while US Treasury bond yields stabilized after climbing more than 10 bps along the whole yield curve on Thursday.
Wall Street ends week on a high note as S&P 500 surpasses 4,400, despite mixed economic signals and Fed's hawkish stance
At the time of writing, the S&P 500 is gaining 1.54% late Friday, staying at 4,414.57, on track for seven-week gains, while the Nasdaq 100 rises 2.05%, at 13,798.56. The laggard was the Dow Jones Industrial, which ended up 1.20%, at 34298.
On Thursday, hawkish remarks by the US Federal Reserve (Fed) Chair Jerome Powell were brushed aside by traders, who remain reluctant to accept additional rate hikes by the US central bank. In the meantime, a poll of the University of Michigan (UoM) revealed that Consumer Sentiment deteriorated, while American households upward revised inflation expectations from now to a one-year horizon at 4.4%, while for five years, at 3.2%.
Given the backdrop, the 10-year US Treasury bond yields failed to gain traction and finished almost flat at 4.618%, while the Greenback dropped 0.09%, as measured by a basket of six currencies, namely the US Dollar Index at 105.79.
Sector-wise, the leaders were Technology, Communication Services, and Consumer Discretionary, each added 2.69%, 1.67%, and 1.66%, respectively. The laggards were Utilities, Health, and Consumer Staples, gaining 0.52%, 0.60% and 0.66%, each.
Investors remained focused on the Federal Reserve, as Atlanta Fed President Raphael Bostic stated that policymakers can bring inflation to its goal with the current level of the fed funds rate. Meanwhile, San Francisco Fed President Mary Daly pushed against dovish postures, adding the Fed could need to hike again if progress on inflation stalls.
Next week's economic docket will feature US inflation data, unemployment claims, and Fed speaking will provide some clues regarding the US economy's status.
S&P 500 Price Analysis – Daily Chart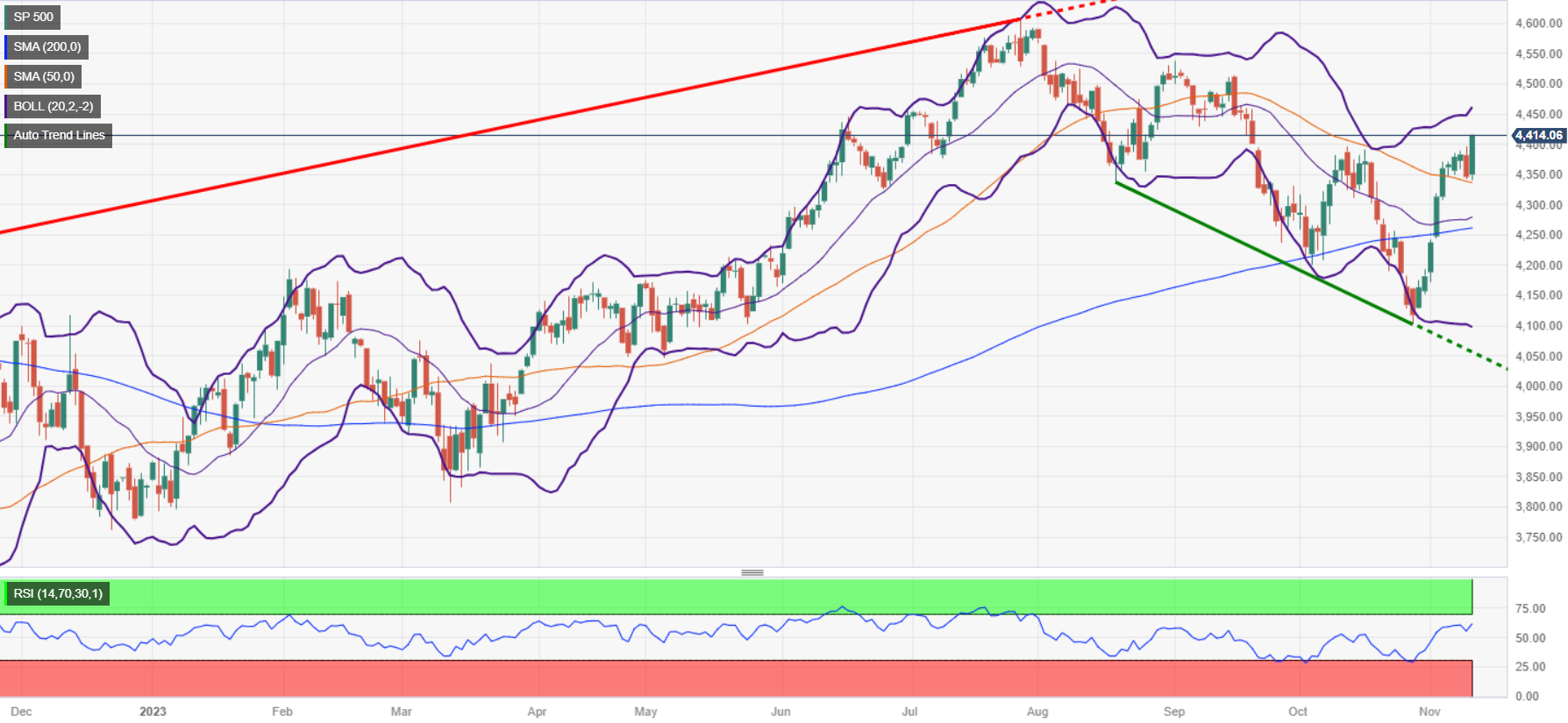 S&P 500 Technical Levels