RAZOR is first and foremost a highly accurate Scalper that activates the Grid mode when needed.
The system constantly monitors the three main currency pairs AUDCAD, AUDNZD, NZDCAD.
These couples work together and support each other.
All three currency pairs have their own settings and have been optimized over the past 13 years.
Optimization was carried out for several brokers at once, ICMarkets, Tickmill, Hankotrade, Vantage, Pepperstone
This made it possible to create universal settings for most firms and trading conditions.
The system also has bonus settings that you can get by contacting me.
A Real Signal with a history of more than 25 weeks is also available for the system.
We deliberately use a broker with huge spreads and a small deposit to demonstrate the long term factor.
The system has a built-in mechanism to adapt to bad market conditions, large spreads, delays, etc.
The algorithm works constantly and analyzes the broker every minute to adapt the mechanism.
To start the system you can simply use the Default Settings for a bill of $500 and up.
Just install the system for AUDCAD M15
RazorEA has a news filter and automatic GMT calculation for your broker.
For these settings to work, you will need to add 2 regular URLs, which are used by most systems on the MQL Market.
https://ec.forexprostools.com
https://worldtimeserver.com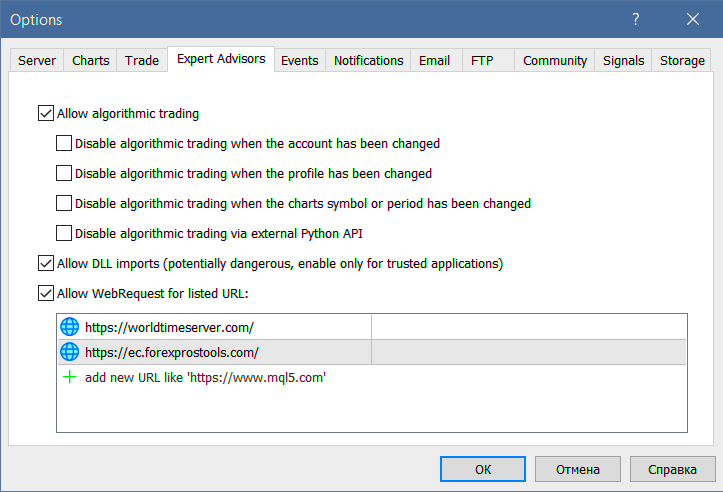 For each currency pair you can use your own risk.
To do this, you can edit the setting
ALL PAIRS = AUDCAD=25,AUDNZD=10,NZDCAD=10
All currency pairs are listed here with the required risk for each.
Thus, you can, for example, specify the risk for NZDCAD=20, which will double the risk for this currency pair.
High risk allows you to get much more profit, but at the same time increases the drawdown.
I don't recommend using risk over 25.
You can also limit the maximum number of active currency pairs. To do this, enter your value
MAX SYMBOLS = 2 , this will limit the number of activities to 2.
If you turn off ONE CHART MODE = OFF , then the system will use the current Chart to work.
In this way you can set up your own parameters for the Currency Pair.
Current settings are already developed for AUDCAD M15
Detailed List of All Parameters :
ONE CHART MODE – allows you to activate the operation mode for only one chart for active trading in three currency pairs
SHOW INFO – show/hide information
USE FAST SPEED CPU MODE – activates fast testing mode, necessary for optimization (disables beautiful graphics)
ALL PAiRS – determines the number of currency pairs and the risk for each pair.
SUFFIX (AUTO=ON) – manually assigns a suffix that your broker uses (the system automatically determines it)
RISK % [0 = FIXED LOT] – risk that works if OneChartMode = OFF
COMMENT – comment on trades
MAX FIRST LOT – the maximum allowable size of the first trade


[BUY] FIRST TAKE PROFIT – maximum required profit for BUY trades
[SELL] FIRST TAKE PROFIT –

the maximum required profit for SELL trades

[BUY] DISTANCE BETWEEN ORDERS – minimum distance for the BUY Grid
[SELL] DISTANCE BETWEEN ORDERS –

minimum distance for the SELL Grid

BUY & SELL MODE – BUY only or SELL only mode


SMART UNIQ TAKEPROFIT – activates the scalping mode for the first two trades
WEIGHTED TP – accompanies the profit in the order grid
RANGE VOLATILITY – market volatility coefficient
FIRST % VOLATILITY – percentage of profit for the first position, depends on market volatility
UNIQ RSI MAX – Maximum RSI level for scalping
UNIQ RSI MIN – Minimum RSI level for scalping


ALLOW HEDGING – activates the mode of double bidirectional trades
FIRST DEAL RSI PERIO – RSI period, too high value reduces positions
MAX RSI – Maximum RSI
MIN RSI – Minimum RSI
ALLOW SMART DISTANCE – activates distance adaptation in grid mode
2nd TRADE MULTIPLIER – multiplier for the second position
3nd TRADE MULTIPLIER – third position multiplier
6nd TRADE MULTIPLIER – sixth position multiplier
MAX DEALS IN GRID – the maximum number of positions in the Grid
MAX SYMBOLS PER TIME – the maximum number of simultaneously active symbols


AUTO GMT – automatic GMT calculation mode
MANUAL GMT – manual GMT if needed
FIXED LOT IF RISK=FIXED – fixed Lot size, active only if Risk=0
MAGIC NUMBER – a unique identifier for each transaction
MAX BROKER SPREAD – the maximum allowable broker spread
USE NEWS FILTER – strong news filter activation
SLEEP MINUTES BEFORE NEWS – number of minutes before strong news to activate the filter
SLEEP MINUTES AFTER NEWS – the number of minutes before after the news

to activate the filter