Share:

Palantir stock rose 6% on Monday due to Israel-Hamas war.
Palantir rises again Tuesday after receiving $250 million US Army contract.
PLTR stock is back above the $17 level, an important resistance level.
The UK's NHS will supposedly soon announce Palantir as winner of a $579 million contract.
Palantir Stock (PLTR) stock jumped 2.8% to $18.10 a half hour into Tuesday's session after the prominent data miner announced it had received a three-year, $250 million contract from the US Army.
US equity markets are once again advancing on Tuesday, same as Monday, as the Israel-Hamas conflict looks more contained than it did over the weekend. Even Oil prices have returned to their downward trajectory after initially rising more than 3% early on Monday. The Dow Jones, S&P 500 and NASDAQ Composite have all advanced around half a percentage point, with the NASDAQ taking the lead.
Palantir stock news: Army contract follows rumored NHS project
As is usual for top-secret military contracts, the announcement is short on details. What we know is that Palantir was awarded the contract, which runs through 2026, to aid the US Army's Combatant Commands, or COCOMs in Army parlance, as well as the Armed Services, Intelligence Community and Special Forces.
The contract is worth up to $250 million if a number of performance goals are met and involves helping these segments of the US Army develop their artificial intelligence (AI) and machine learning capabilities. The contract seeks to help integrate informational sharing and AI modeling through the Joint All-Domain Command & Control (JADC2).
"We're honored to expand our partnership with the Army to continue delivering the most innovative technologies and advanced data applications across the Armed Services," said Akash Jain, President of Palantir USG, the segment of the company that deals with US government contracts. "Maturing new concepts for how we deploy solutions in different contexts is key to maintaining our nation's competitive advantage, and we appreciate the opportunity to support this mission."
Palantir stock closed 6% higher on Monday as a number of stocks related to the military and defense benefited from US politicians announcing their intention to put together an aid package for Israel in light of its bombing campaign against the Hamas-controlled territory of Gaza. Israel is also readying a ground campaign.
Palantir was rumored last week to have secured a $579 million, multiyear contract with the National Health Service (NHS) of the United Kingdom. Additionally, the company has recently broadened its partnership with PwC to distribute its Foundry and Artificial Intelligence Platform (AIP) to corporate partners of the global accounting firm.
 
AI stocks FAQs
First and foremost, artificial intelligence is an academic discipline that seeks to recreate the cognitive functions, logical understanding, perceptions and pattern recognition of humans in machines. Often abbreviated as AI, artificial intelligence has a number of sub-fields including artificial neural networks, machine learning or predictive analytics, symbolic reasoning, deep learning, natural language processing, speech recognition, image recognition and expert systems. The end goal of the entire field is the creation of artificial general intelligence or AGI. This means producing a machine that can solve arbitrary problems that it has not been trained to solve.
There are a number of different use cases for artificial intelligence. The most well-known of them are generative AI platforms that use training on large language models (LLMs) to answer text-based queries. These include ChatGPT and Google's Bard platform. Midjourney is a program that generates original images based on user-created text. Other forms of AI utilize probabilistic techniques to determine a quality or perception of an entity, like Upstart's lending platform, which uses an AI-enhanced credit rating system to determine credit worthiness of applicants by scouring the internet for data related to their career, wealth profile and relationships. Other types of AI use large databases from scientific studies to generate new ideas for possible pharmaceuticals to be tested in laboratories. YouTube, Spotify, Facebook and other content aggregators use AI applications to suggest personalized content to users by collecting and organizing data on their viewing habits.
Nvidia (NVDA) is a semiconductor company that builds both the AI-focused computer chips and some of the platforms that AI engineers use to build their applications. Many proponents view Nvidia as the pick-and-shovel play for the AI revolution since it builds the tools needed to carry out further applications of artificial intelligence. Palantir Technologies (PLTR) is a "big data" analytics company. It has large contracts with the US intelligence community, which uses its Gotham platform to sift through data and determine intelligence leads and inform on pattern recognition. Its Foundry product is used by major corporations to track employee and customer data for use in predictive analytics and discovering anomalies. Microsoft (MSFT) has a large stake in ChatGPT creator OpenAI, the latter of which has not gone public. Microsoft has integrated OpenAI's technology with its Bing search engine.
Following the introduction of ChatGPT to the general public in late 2022, many stocks associated with AI began to rally. Nvidia for instance advanced well over 200% in the six months following the release. Immediately, pundits on Wall Street began to wonder whether the market was being consumed by another tech bubble. Famous investor Stanley Druckenmiller, who has held major investments in both Palantir and Nvidia, said that bubbles never last just six months. He said that if the excitement over AI did become a bubble, then the extreme valuations would last at least two and a half years or long like the DotCom bubble in the late 1990s. At the midpoint of 2023, the best guess is that the market is not in a bubble, at least for now. Yes, Nvidia traded at 27 times forward sales at that time, but analysts were predicting extremely high revenue growth for years to come. At the height of the DotCom bubble, the NASDAQ 100 traded for 60 times earnings, but in mid-2023 the index traded at 25 times earnings.
Palantir stock forecast
Palantir stock broke through an important resistance barrier on Monday and was already in an uptrend. The level worked as support back on May 11, 2021, when the high-growing software provider experienced an extreme sell-off event. More recently, PLTR stock has experienced the $17 level as resistance during June and July of this year.
If bulls turn $17 back into support, an activity it hasn't seen in two years, then there is further hope that PLTR stock could soon retest the August first swing high at $20.24. Beware of poor macro chatter, however, as despite PLTR's industry-specific tailwinds, the stock has often been a market trend follower. If Palantir does sell off later this week, expect the support band from $13.50 to $14 to catch it.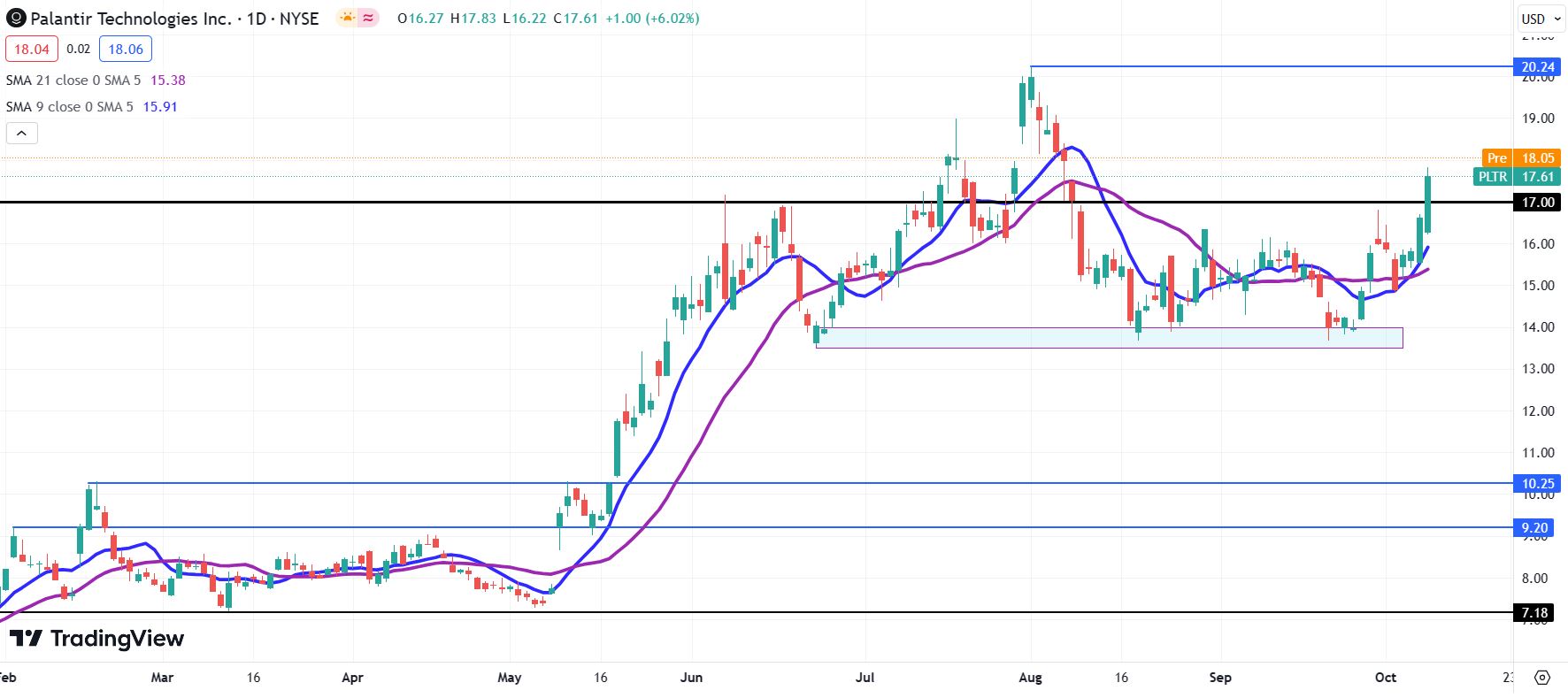 PLTR daily chart