Share:

Palantir stock was rebuffed on Tuesday after overtaking the $20-$21.15 resistance band.
The UK's NHS officially announced that Palantir will lead a corporate team to overhaul the public health system's operating software.
The contract will pay 330 million British Pounds over seven years.
Bears will seek to push PLTR back to support at $18.
Palantir (PLTR) stock was rebuffed by 6% on Tuesday after looking like it had achieved escape velocity on Monday. Shares of the artificial intelligence company opened on Tuesday at $21.11 but have since slidden to $20.
Palantir is simply following the lead of the broad market as the S&P 500 and Dow Jones have both backtracked more than 0.1%, while the NASDAQ pulls back more than 0.6%. Tuesday's stuck market consolidation comes after the S&P 500 put an end to its three-month correction in the shortest period of time in 50 years, according to Deutsche Bank analysts.
Palantir stock news: NHS contract is official
On Tuesday, Palantir announced what had been rumored for weeks – the company founded by Peter Thiel has been selected to lead a group of firms that will overhaul the public health service of the United Kingdom using a new digitized database.
Palantir has been chosen to head up the 330 million British Pound contract ($413 million), which is expected to last for seven years. Other consulting firms such as Accenture, PwC, NECS and Carnall Farrar will also contribute to the contract.
The contract is focused on a new software platform called the Federated Data Platform or FDP. The main thrust of the overall is to reduce patient waiting times and decrease hospital discharge delays at the National Health Service (NHS).
In a statement, the NHS said, "Pilot projects using the new data-sharing approach have seen a drop in waiting times for planned care and in discharge delays, and seen faster diagnosis and treatment times."
In one such pilot project, the North Tees and Hartlepool Trust hospital system was able to reduce long-term stays by 36%, which allowed nearly 8% more patients to receive care than usual.
"This award is the culmination of 20 years of developing software that enables complex, sensitive data to be integrated in a way that protects security, respects privacy and puts the customer in full control," said Palantir CEO Alex Karp in a statement.
Before the present contract, Palantir worked pro-bono to help the NHS schedule covid vaccinations and schedule surgeries and other operations.
AI stocks FAQs
First and foremost, artificial intelligence is an academic discipline that seeks to recreate the cognitive functions, logical understanding, perceptions and pattern recognition of humans in machines. Often abbreviated as AI, artificial intelligence has a number of sub-fields including artificial neural networks, machine learning or predictive analytics, symbolic reasoning, deep learning, natural language processing, speech recognition, image recognition and expert systems. The end goal of the entire field is the creation of artificial general intelligence or AGI. This means producing a machine that can solve arbitrary problems that it has not been trained to solve.
There are a number of different use cases for artificial intelligence. The most well-known of them are generative AI platforms that use training on large language models (LLMs) to answer text-based queries. These include ChatGPT and Google's Bard platform. Midjourney is a program that generates original images based on user-created text. Other forms of AI utilize probabilistic techniques to determine a quality or perception of an entity, like Upstart's lending platform, which uses an AI-enhanced credit rating system to determine credit worthiness of applicants by scouring the internet for data related to their career, wealth profile and relationships. Other types of AI use large databases from scientific studies to generate new ideas for possible pharmaceuticals to be tested in laboratories. YouTube, Spotify, Facebook and other content aggregators use AI applications to suggest personalized content to users by collecting and organizing data on their viewing habits.
Nvidia (NVDA) is a semiconductor company that builds both the AI-focused computer chips and some of the platforms that AI engineers use to build their applications. Many proponents view Nvidia as the pick-and-shovel play for the AI revolution since it builds the tools needed to carry out further applications of artificial intelligence. Palantir Technologies (PLTR) is a "big data" analytics company. It has large contracts with the US intelligence community, which uses its Gotham platform to sift through data and determine intelligence leads and inform on pattern recognition. Its Foundry product is used by major corporations to track employee and customer data for use in predictive analytics and discovering anomalies. Microsoft (MSFT) has a large stake in ChatGPT creator OpenAI, the latter of which has not gone public. Microsoft has integrated OpenAI's technology with its Bing search engine.
Following the introduction of ChatGPT to the general public in late 2022, many stocks associated with AI began to rally. Nvidia for instance advanced well over 200% in the six months following the release. Immediately, pundits on Wall Street began to wonder whether the market was being consumed by another tech bubble. Famous investor Stanley Druckenmiller, who has held major investments in both Palantir and Nvidia, said that bubbles never last just six months. He said that if the excitement over AI did become a bubble, then the extreme valuations would last at least two and a half years or long like the DotCom bubble in the late 1990s. At the midpoint of 2023, the best guess is that the market is not in a bubble, at least for now. Yes, Nvidia traded at 27 times forward sales at that time, but analysts were predicting extremely high revenue growth for years to come. At the height of the DotCom bubble, the NASDAQ 100 traded for 60 times earnings, but in mid-2023 the index traded at 25 times earnings.
Palantir stock forecast
A pullback had to ensue at some point, since PLTR stock has continued rallying since its third-quarter earnings beat at the start of the month. The stock has rallied more than 46% since November 1.
Last Friday, Palantir's stock price closed above the $20.24 range high from August 1. But the Relative Strength Index (RSI) showed that PLTR was overbought after such a brisk rally in the first half of November.
A likely support level at this point is the $18 handle, which acted as resistance in October and then as support in the first part of this month. Traders will give this level more credence since the 21-day Simple Moving Average (SMA) is cresting in the vicinity.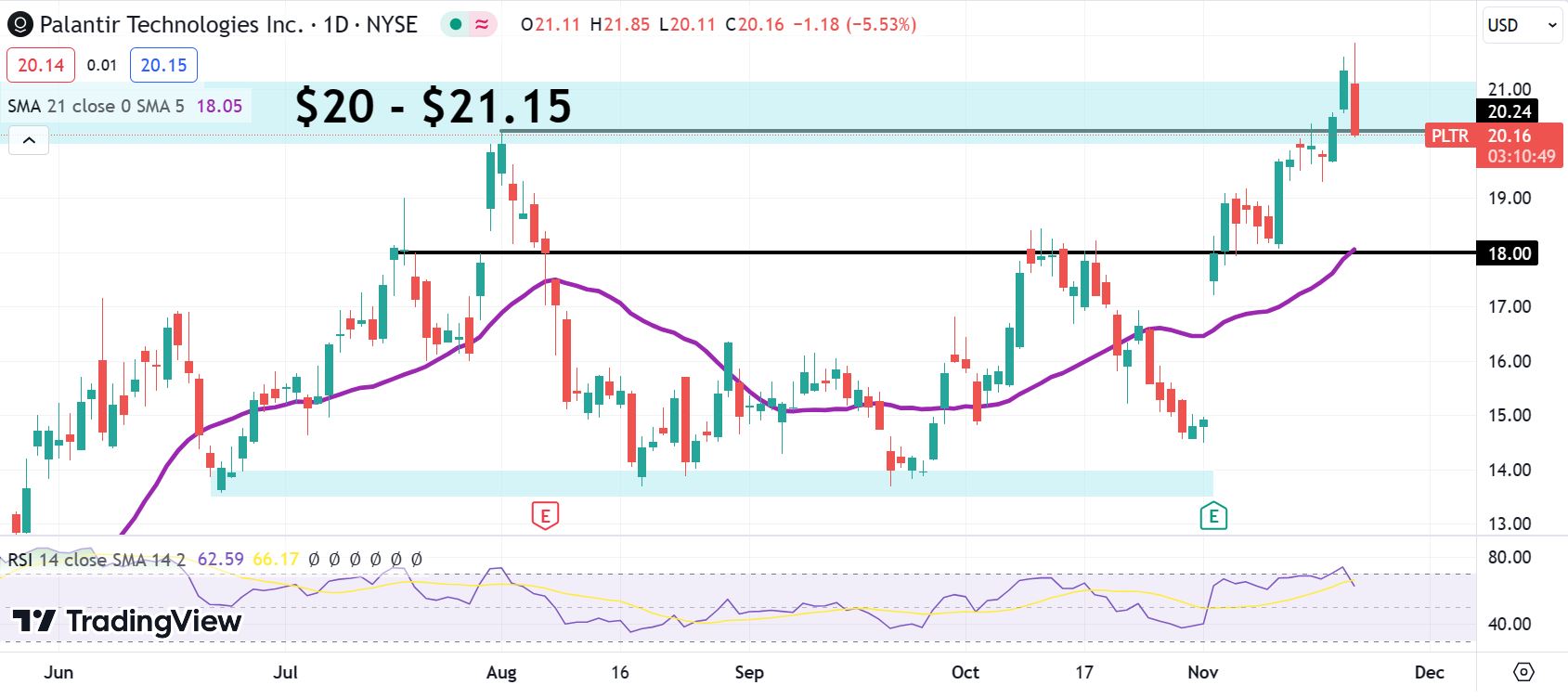 PLTR daily chart
On Monday, PLTR broke above the $20 to $21.15 support band that largely held up the share price during the March through July period of 2021, shortly after the company went public. That band might still have significance as PLTR was only able to break through it for the first time in more than two years for a single session before backtracking.
If PLTR breaks back above $21.15 as the market turns its expectations toward a Santa rally, then bulls may focus their energy on the $29 to $32 target that shareholders haven't seen in two years.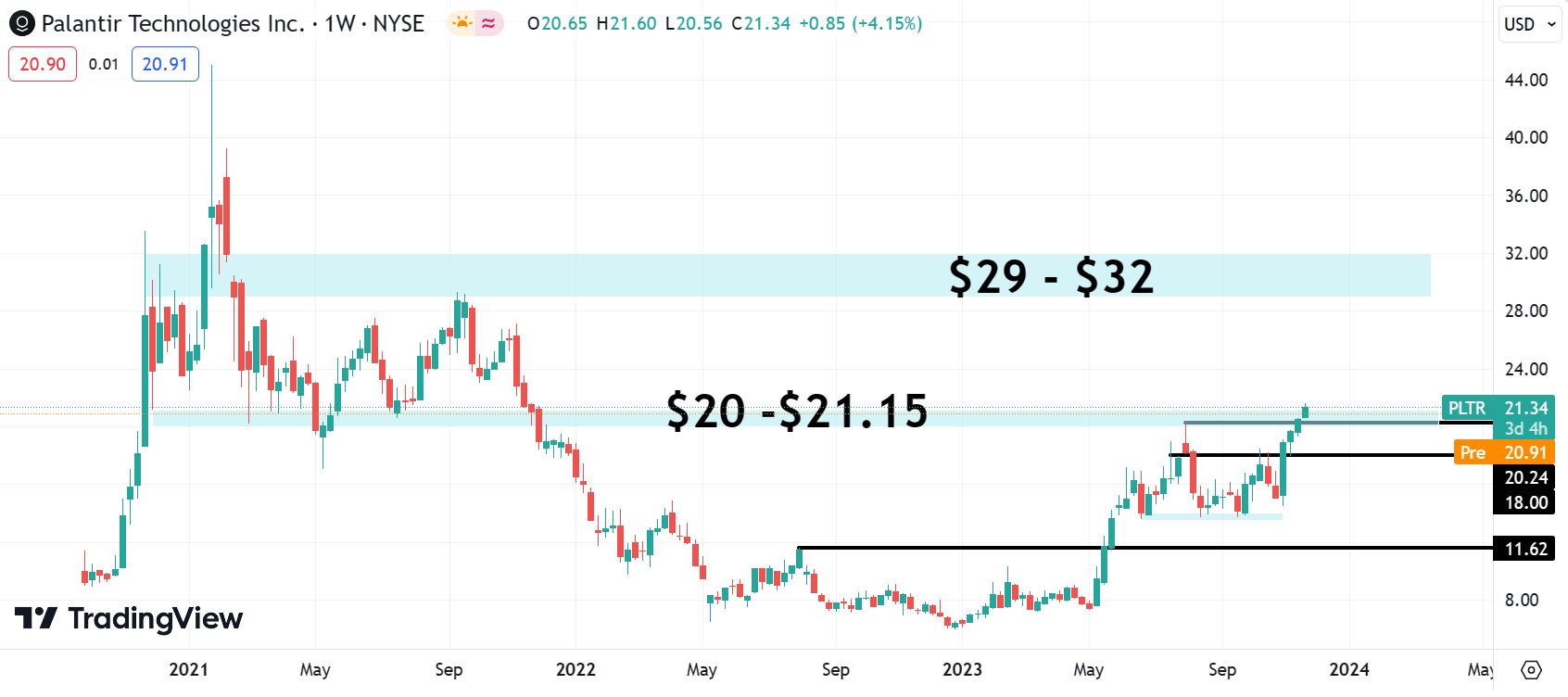 PLTR weekly chart