Share:

WTI Oil has fallen to a four-month-low. 
The US Dollar is in a wait-and-see pattern ahead of US inflation numbers. 
Oil could enter a volatile patch with the release of the monthly OPEC report ahead of the November 26 meeting. 
Oil prices have already lost over 20% of value after briefly hitting $94 at the end of September. Oil prices are getting battered as OPEC+ looks unable for now to provide any incentive for the markets to push Oil prices back up. The number of negative headlines on slowing demand in China and other big demand side representatives is too big a catalyst against the small efforts from Russia and Saudi Arabia to limit their supply. 
Meanwhile, The US Dollar (USD) is trading with a small change of heart. Just as markets were starting to prepare for the end of the rate hike cycle from the US Federal Reserve, its Chairman Jerome Powell said in a speech last week that more hikes might still come as the Fed sees a possible uptick in inflationary pressures. That reasoning got confirmed on Friday when the preliminary numbers for November from the University of Michigan revealed an uptick in inflation expectations. 
Crude Oil (WTI) trades at $77.15 per barrel, and Brent Oil trades at $81.22 per barrel at the time of writing. 
Oil news and market movers: OPEC only force that can support
At around 12:00 GMT this Monday November 13th,, the monthly OPEC report is due to be issued. 
Azerbaijan produced 480,000 barrels of Oil per day in October 2023, while its output quota under the OPEC+ deal was 684,000 bpd in October. The country fell 204,000 bpd short of the quota, according to S&P Global Commodity Insights.
Hayyan Abdul Ghani, the Iraqi Oil minister confirmed its commitment to supporting the OPEC+ agreement:
The minister said an increase in exports of some producing countries, including Iraq, is normal practice and can be influenced by domestic consumption changes, and does not affect production levels agreed by OPEC+.
The statement was issued in a response to press reports regarding an increase in Iraq's Oil exports.
Carsten Fritsch, a leading Oil analyst from Commerzbank said that a Saudi Oil supply-cut extension is more than likely. It could be a possible solution in the quest from OPEC+ to keep Oil prices supported while demand is still sluggish. 
Oil Technical Analysis: demandside biggest reason
Oil prices have sunk substantially as markets clearly have reacted to fading demand from all fronts. Meanwhile the producing countries are not doing enough to halt the decline, which builds momentum for an aggressive move rather later than sooner. Expect to see an OPEC+ meeting at the end of November with in the meantime heightened risk of a further decline in Oil prices.  
On the upside, $80 is the new resistance to watch out for. Should Crude be able to jump higher again, look for $84 (purple line) as the next level to see some selling pressure or profit taking. Should Oil prices be able to consolidate above there, the topside for this fall near $93 could come back into play.
On the downside, traders are seeing a soft floor being formed near $74. That level is acting as the last line of defence before entering $70 and lower. Once entering that area, markets might factor in the risk of a surprise intervention from OPEC+ to jack up Oil prices again.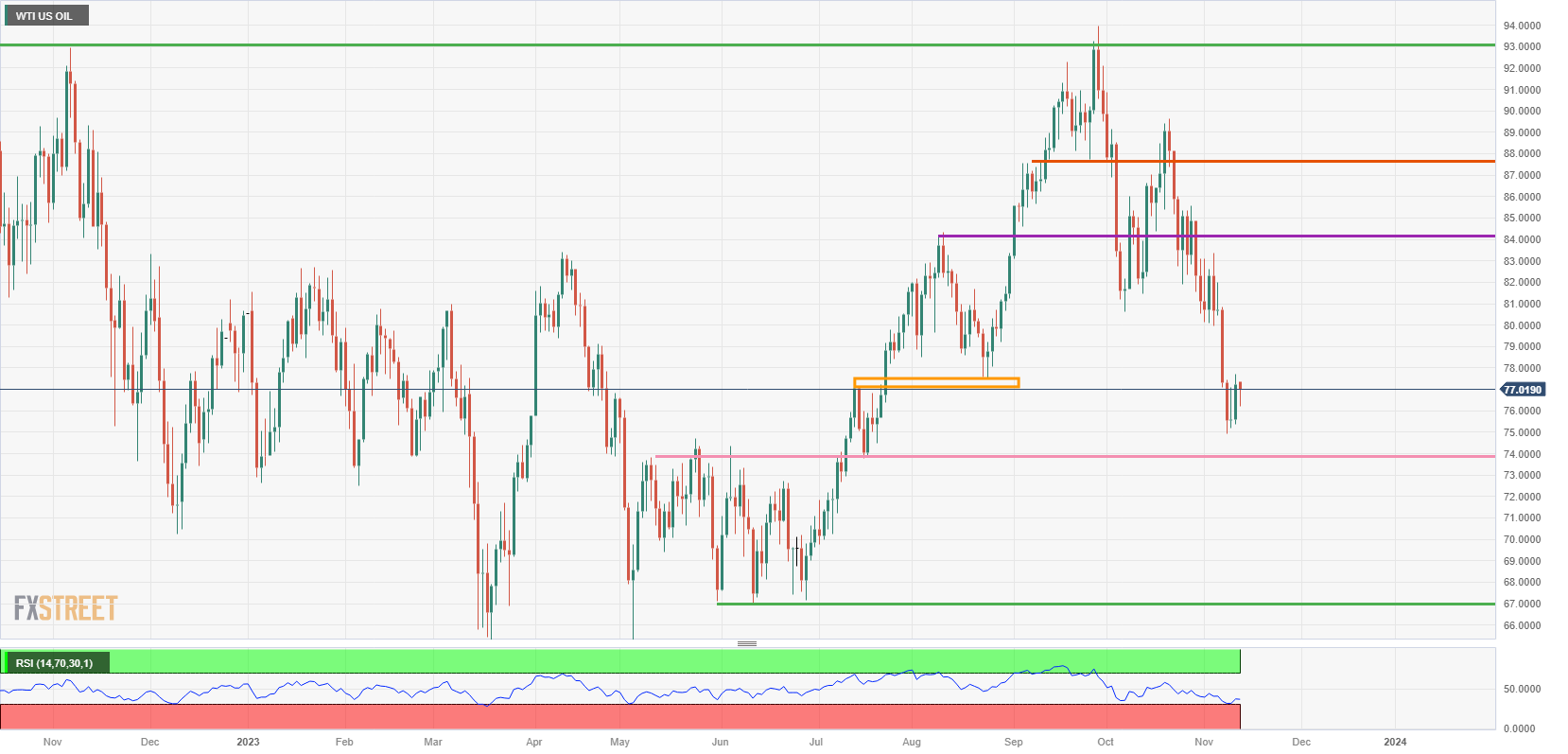 US WTI Crude Oil: Daily Chart
WTI Oil FAQs
WTI Oil is a type of Crude Oil sold on international markets. The WTI stands for West Texas Intermediate, one of three major types including Brent and Dubai Crude. WTI is also referred to as "light" and "sweet" because of its relatively low gravity and sulfur content respectively. It is considered a high quality Oil that is easily refined. It is sourced in the United States and distributed via the Cushing hub, which is considered "The Pipeline Crossroads of the World". It is a benchmark for the Oil market and WTI price is frequently quoted in the media.
Like all assets, supply and demand are the key drivers of WTI Oil price. As such, global growth can be a driver of increased demand and vice versa for weak global growth. Political instability, wars, and sanctions can disrupt supply and impact prices. The decisions of OPEC, a group of major Oil-producing countries, is another key driver of price. The value of the US Dollar influences the price of WTI Crude Oil, since Oil is predominantly traded in US Dollars, thus a weaker US Dollar can make Oil more affordable and vice versa.
The weekly Oil inventory reports published by the American Petroleum Institute (API) and the Energy Information Agency (EIA) impact the price of WTI Oil. Changes in inventories reflect fluctuating supply and demand. If the data shows a drop in inventories it can indicate increased demand, pushing up Oil price. Higher inventories can reflect increased supply, pushing down prices. API's report is published every Tuesday and EIA's the day after. Their results are usually similar, falling within 1% of each other 75% of the time. The EIA data is considered more reliable, since it is a government agency.
OPEC (Organization of the Petroleum Exporting Countries) is a group of 13 Oil-producing nations who collectively decide production quotas for member countries at twice-yearly meetings. Their decisions often impact WTI Oil prices. When OPEC decides to lower quotas, it can tighten supply, pushing up Oil prices. When OPEC increases production, it has the opposite effect. OPEC+ refers to an expanded group that includes ten extra non-OPEC members, the most notable of which is Russia.