Share:

The NZD/USD is bounding higher as the US Dollar falls back on NFP data beats.
Kiwi catches enough lift to tap the 0.6000 major level post-NFP.
The Kiwi is now grasping to stay flat on the week.
Friday markets are seeing a broad reversal of the week's flows after the US Non-Farm Payrolls (NFP) figures came ion well above expectations, with the US economy adding 336K jobs, well above the forecast decline to 170K and easily beating the previous figure which was revised from 187K to 220K.
US Nonfarm Payrolls soar by 336,000 in September vs. 170,000 forecast
With the US NFP barrelshot out of the way, markets are stepping away from the US Dollar (USD) to close out the trading week, and the NZD/USD has rebounded from Friday's low of 0.5923 and is now trading back slightly into 0.5980 after briefly tipping into the 0.6000 major handle.
Markets will be rounding the corner into a sedate trading window next week, and meaningful data isn't expected until Wednesday's US Producer Price Index (PPI) figures as well as the Federal Reserve's (Fed) Federal Open Market Committee (FOMC) which will be dropping their latest meeting minutes for investors to review.
NZD/USD technical outlook
The NZD/USD pinged 0.6000 following the US Dollar's broad-market fallback, sending the pair back into the week's opening bids. The pair has climbed 2.2% from the week's bottom near 0.5870, and the Kiwi is set to fall back heading into the Friday close.
On the daily candlesticks the NZD/USD still remains firmly planted in consolidation territory, trading into the 50-day Simple Moving Average (SMA) with the 200-day SMA firmly entrenched just north of 0.6150.
September's bottom of 0.5846 still remains a key technical floor, but the pair is still well off recent highs, down 6.7% from July's peak into 0.6415.
NZD/USD hourly chart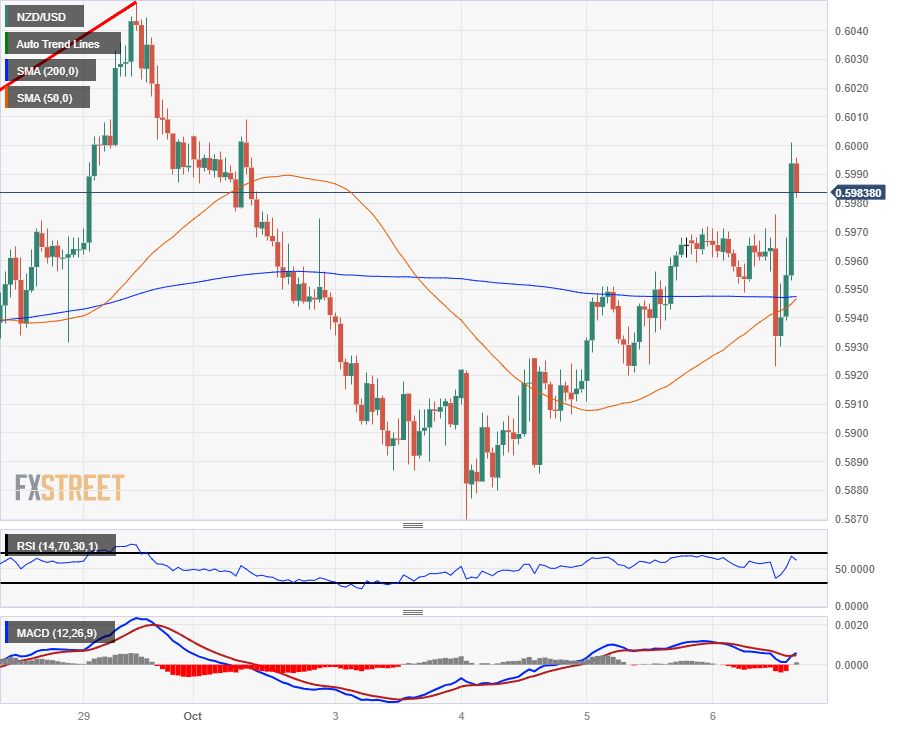 NZD/USD daily chart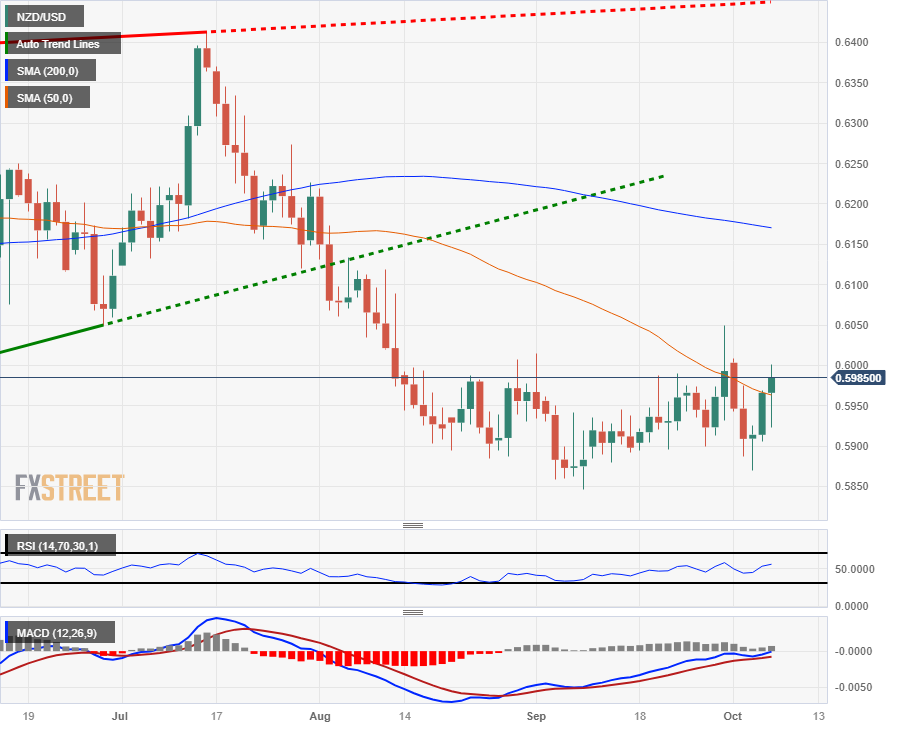 NZD/USD technical levels