Share:

Mullen Automotive stock has gained 7% over the past five trading sessions.
MULN stock slid 35% in late September as delisting worries continued.
Friday's Nonfarm Payrolls blew expectations out of the water as US hiring exploded.
Bulls need to shoot for the 21-day SMA near $0.51.
NASDAQ Composite gives up over 1% on Friday due to strong NFP.
Mullen Automotive (MULN), the electric vehicle (EV) penny stock that has been threatened with delisting by the NASDAQ exchange, has gradually seen its share price stabilize over the past week. After slouching down nearly 35% between September 15 and 28, the penny stock has seen its fortunes recover somewhat in the first week of October. MULN stock has regained 7% over the past five trading sessions.
Mullen stock is selling off on Friday, however, after the September Nonfarm Payrolls (NFP) release showed hiring surging above expectations. MULN stock is down 3% to $0.46 at the time of writing.
Consensus for the NFP had called for 170K net new hires, a figure that would have held the labor market stready. Instead, the US Bureau of Economic Analysis reported 336K net new hires. One good sign for those worried about an overheating US labor market causing a resurgence in inflation was the Average Hourly Earnings print, which showed wages growing 0.2% on a monthly basis and 4.2% on an annual basis. Both readings were below consensus. 
The news caused the NASDAQ Composite to sell off over 1% as many think a strong labor market could reignite inflation and cause the Federal Reserve (Fed) to raise interest rates even higher.
Mullen stock news: NASDAQ delisting saga continues
Mullen's stock price has trended lower as the company's prospect of retaining its NASDAQ listing has been called into question. NASDAQ officials said at the beginning of September that MULN would be delisted shortly in response to the company failing to maintain a share price above $1. Despite two reverse stock splits in 2023 – a 1-for-25 reverse split and a 1-for-9 reverse split – heavy issuing of new shares throughout the summer has caused MULN to re-earn its penny stock reputation.
In September, Mullen CEO David Michery requested a hearing with the NASDAQ Hearings Panel to request an extension period. Impressively, the request was granted, and Mullen hired Donohoe Advisory Associates to argue its case. The firm is made up of former stock market executives. The company has not yet presented a timeline for the hearing, but the action delays the execution of a delisting for now.
Separately, the brokerages that Mullen has filed suit against for alleged stock manipulation practices have until October 19 to file their response to the charges. The defendants include TD Ameritrade, Charles Schwab and National Financial Services. 
Mullen argues that the entities "artificially affect[ed] market activity and manipulate[d] the price of Mullen securities between May 4, 2023, and August 25, 2023, in violation of Section 10(b) of the Securities Exchange Act of 1934 and Rule 10b-5."
Just a week ago, Mullen announced the first delivery of the Mullen Three, its electric Class 3 semi-truck chassis, to Randy Marion Automotive Group. The $630,000 purchase is part of 1,000 units previously ordered by the commercial dealership. The delivery was made possible by Mullen receiving EPA certification for the Class 3 vehicle. Additionally, both its Mullen One cargo van and the Mullen Three have been approved for $7,500 tax credits by the Internal Revenue Service.
Mullen Automotive FAQs
Mullen Automotive is a publicly-traded development-stage electric vehicle company based in Brea, California that typically uses outside partnerships to manufacture its vehicles. The company was founded in 2014 and currently sells self-designed electric delivery vehicles. Besides its commercial offerings, Mullen plans to begin manufacturing its Mullen FIVE EV crossover in late 2024 or early 2025. Mullen Automotive went public on the NASDAQ exchange through a reverse merger in late 2021.
David Michery has been the company's CEO since he founded and incorporated the company in 2014. The existing company came from the merging of CODA Automotive and Mullen Motor Cars through acquisition. Michery is joined by Chief Financial Officer Jonathan New, Chief Commercial Officer John Schwegman and President of the Automotive Division Calin Popa.
Through a partnership with Randy Marion Automotive Group, Mullen distributes its Mullen One delivery van that has an electric range of 110 miles. Through an agreement with a Chinese manufacturer and distributor based in Ireland, the company also distributes the Mullen-GO Commercial Urban Delivery EV in Europe. In July 2023, Mullen will begin commercial production at its facility in Mississippi of its Class 3 EV Cab Chassis long-haul truck for immediate delivery. Through its 60% ownership stake in Bollinger Motors, Mullen will also reap the benefits of that company's B1 SUV and B2 pickup truck, as well as other commercial vehicles in the future. The Mullen FIVE crossover vehicle is not slated for production until at least late 2024, but it is already taking reservations.
Mullen has been diluting its stock since going public in late 2021. This is because the company as of yet currently has little revenue from operations and no profits. The stock has fallen over 99% since the company's reverse merger in November 2021, and the rapid dilution is mostly to blame. Taking into account Mullen's 1-for-25 reverse stock split on May 4, 2023, Mullen had 33,338,727 shares outstanding on September 30, 2022, but 126,281,274 shares on March 31, 2023. The company is allowed to sell up to 200 million shares under current authorization.
Mullen stock news: Buybacks wait in the wings
After closing at $0.4435 on September 28, MULN stock has stabilized and begun rising gradually. This could be due to Mullen's buyback program. Management says it has already repurchased $5.6 million worth of stock over the past month and a half, which means the company still has more than $19 million worth of firepower left over from its initial $25 million, board-approved buyback policy.
In a recent announcement, management said Mullen "continues to look for opportune moments to purchase additional shares."
One would think with the ongoing NASDAQ situation, Michery and the board would set out to use their cash to push the share price above $1, but it appears they want to ensure the hearing board provides them with an extension first.
The daily chart shows that on Thursday MULN stock managed to overtake the 9-day Simple Moving Average (SMA) momentarily before closing just beneath it. To kick this rally into high gear, bulls need to push MULN above the 21-day SMA near $0.51. That would at least put the September 18 range high of $0.75 in play. 
If MULN price action remains on this slightly ascending trajectory, then traders will view the late September bottom as a higher low. If MULN, however, breaks below $0.4435, then the all-time low from late August and early September at $0.39 will once again become necessary for support.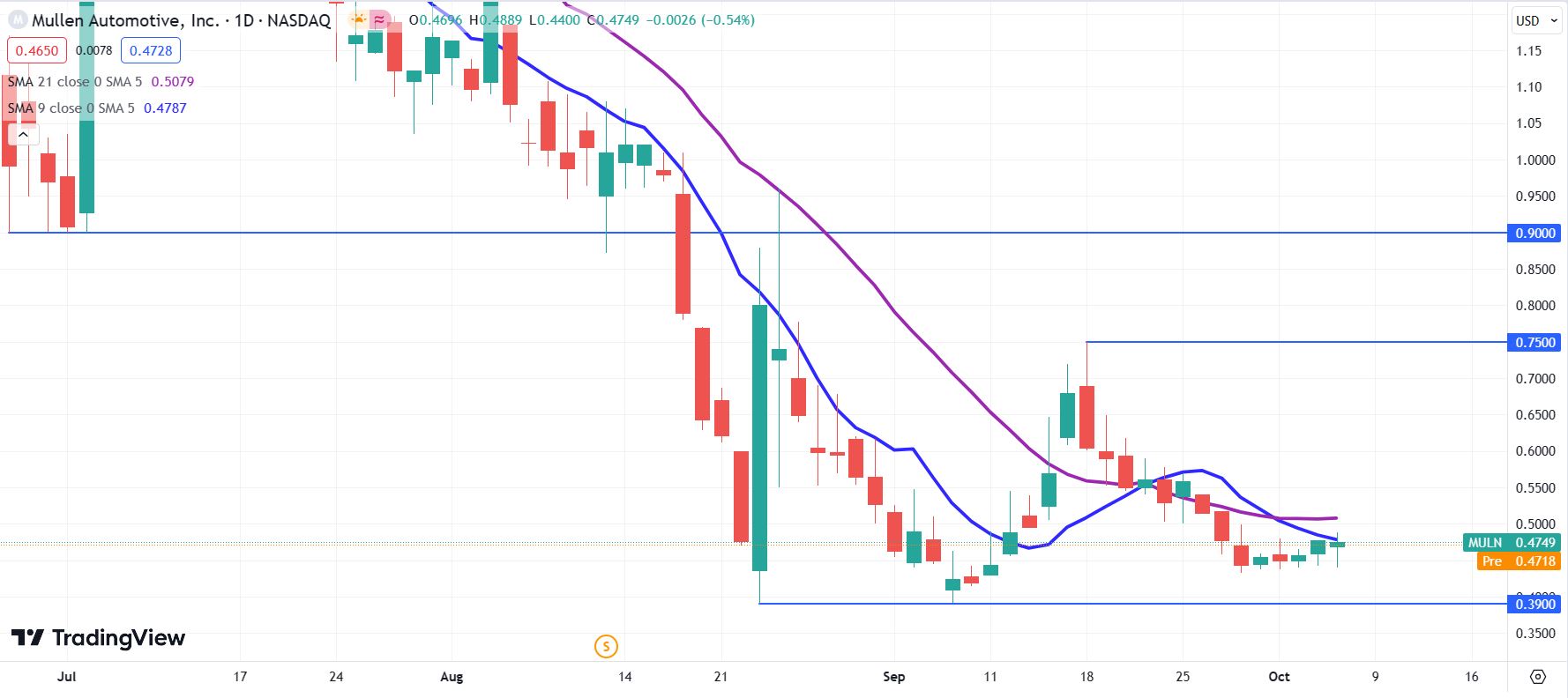 MULN daily stock chart