Share:

Spot Gold prices are seeing further downside on Friday as investors pivot on Fed remarks.
Fed looking more hawkish than market participants believed last week.
US Dollar, US Treasury yields seeing gains for the week, Gold swoons.
XAU/USD prices are testing towards the downside on Friday, edging towards $1,930 after yesterday's hawkish comments from Federal Reserve (Fed) Chairman Jerome Powell, who suggested that the Fed may not have achieved suitably restrictive monetary policy to contain inflation.
Alongside Fed head Powell, several Fed policymakers hit newswires this week suggesting that rates may not be high enough to sufficiently cap inflation towards the Fed's 2% target looking forward. The hawkish stance completely eviscerated the broad-market narrative that the Fed was not only done with rate hikes, but would be heading into a rate-cut cycle soon. 
Investors last week heralded the end of the Fed's rate hike cycle following a worse-than-expected US Nonfarm Payrolls (NFP) print last Friday, but Fed officials have spent the week warning that a single bad labor data reading is not enough to shift the dot plot.
Up Next: US CPI inflation data to balance Fed statements
Next week's US Consumer Price Index (CPI) inflation reading will carry extra weight on Tuesday as investors peel back the layers to see if inflation will cool enough for investors to resume hoping for future rate cuts to ease borrowing costs.
US CPI inflation figures are expected to soften month-on-month, with the headline October print forecast to decline from 0.4% to 0.1%, while the annualized Core CPI for the year into October is expected to hold steady at 4.1%.
A meet-or-beat print for annualized Core CPI would mean US inflation is still running over twice as hot as the Fed's target of 2% annually.
XAU/USD Technical Outlook
Spot Gold's declines on Friday accelerate price action into bear country, seeing a rejection from the 50-hour Simple Moving Average (SMA) from $1,965.
XAU/USD has closed entirely bearish for the week with little relief bidding, seeing a rejection from the 200-hour SMA early Monday and declining nearly 3% on the week.
On the daily candlesticks, XAU/USD has slumped back into the 200-day SMA as Gold bids back into long-term median prices, and a constraining 50-day SMA on the bearish side of the longer moving average implies further downside could be on the cards.
XAU/USD Hourly Chart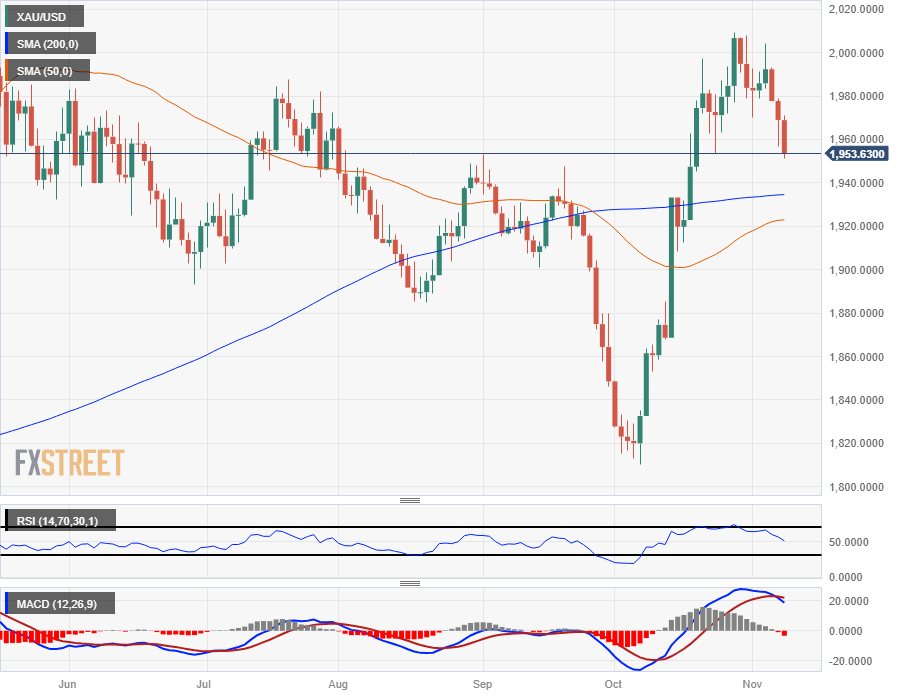 XAU/USD Daily Chart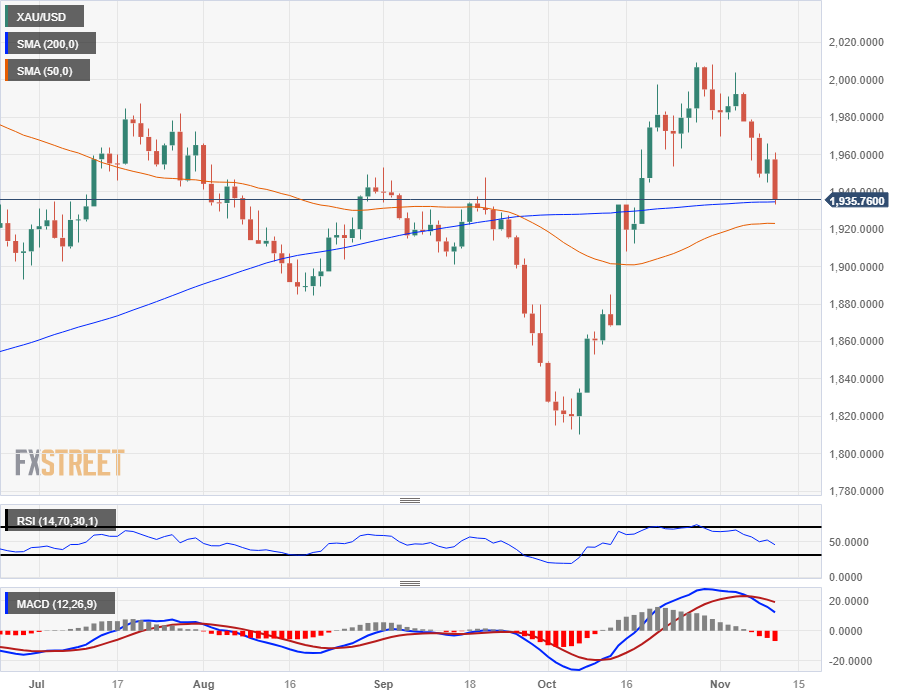 XAU/USD Technical Levels