Share:

The GBP/USD is pushing into the high side for Friday, tapped into 1.2170.
Broader market sentiment is improving, sending the US Dollar back heading into the Friday close.
UK Retail Sales did little to help matters, printing firmly in the red.
The GBP/USD is looking to squeeze out some gains before the Friday closing bell, stretching into 1.2170 in the Friday midday. Despite a miss for UK Retail Sales earlier in the day, the Pound Sterling (GBP) is benefiting from a general softening in the US Dollar (USD).
UK Retail Sales drop 0.9% MoM in September vs. -0.1% expected
UK Retail Sales on Friday broadly missed the mark, with September's retailers' receipts printing a dismal -0.9% against the forecast -0.1%, and steepening the decline from August's 0.4%.
With a quiet Monday on the economic calendar, GBP traders will be looking ahead to Tuesday's UK labor and Purchasing Manager Index (PMI) figures.
UK job additions are expected to decline by an additional 198K in August as investors hope for a slight improvement from July's -207K, and markets are hoping for a slight improvement in the UK preliminary PMI, with the PMI Composite forecast to print at 48.8 compared to the last 48.5.
GBP/USD Technical Outlook
The Pound Sterling is trading into 1.2150 against the US Dollar after pinning a late high of 1.2170 on Friday, with the GBP/USD seeing a Dollar-bearish fueled recovery from the day's lows near 1.2093.
Despite Friday's moderate recovery, the GBP/USD remains firmly planted in bear country, with the pair trading down from October's swing into 1.2350. Further up the chart, the 50-day Simple Moving Average (SMA) is confirming a bearish cross of the 200-day SMA, and any technical recoveries in the chart will be set for a clash with resistance from the descending moving average.
Technical Support currently rests at October's early low of 1.2037, and a break of this level sets the GBP/USD up for a downside run into an early-year support zone near the 1.1900 handle.
GBP/USD Daily Chart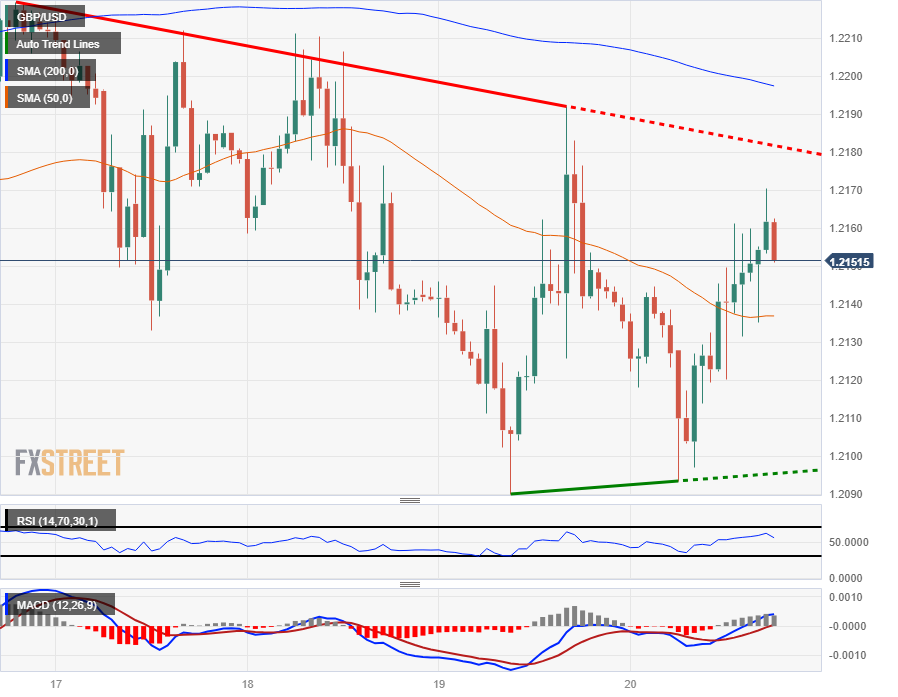 GBP/USD Technical Levels