Share:

The GBP/JPY is seeing a bounce from near-term lows at 181.30 to settle out the trading week in familiar consolidation.
Market sentiment is seeing a step back from safe havens, but lack of momentum in risk assets is limiting topside.
UK Retail Sales missed, capping off recovery gains for the Guppy.
The GBP/JPY is set to finish out the trading week on the north side of 182.00 with late Friday price action sifting around 182.20 after a broad-market sentiment rally is seeing safe haven assets take a step back, pushing down the Japanese Yen (JPY) and giving the Pound Sterling (GBP) to recover some ground.
UK Retail Sales flopped on release, printing at -0.9% for September compared to August's 0.4%, completely missing the forecast -0.3% and sending the Pound Sterling down to 181.30 against the Yen.
Early Friday saw the Japanese National Consumer Price Index (CPI) for September hit an annualized 3% versus August's 3.2% reading for the same period, but market reaction was limited as the national inflation figure gets front-run by the Tokyo CPI reading which came in late September.
GBP/JPY Technical Outlook
Momentum continues to bleed out of the GBP/JPY on daily candlesticks, with the pair trading close or into the 50-day Simple Moving Average (SMA) near 183.30 since first declining into the 183.00 handle in September, and near-term consolidation has seen the Guppy trading into previous day levels for most of October.
The GBP/JPY's constraining pattern leaves the pair adrift at the top end of the year's highs, and the Pound Sterling remains up over 17% from 2023's bottom bids set back in January near 155.35.
With bullish opportunities quickly evaporating, any strength from the JPY will send the Guppy back down the charts in short order, with long-term technical support sitting at the 200-day SMA currently parked just below 174.00.
GBP/JPY Daily Chart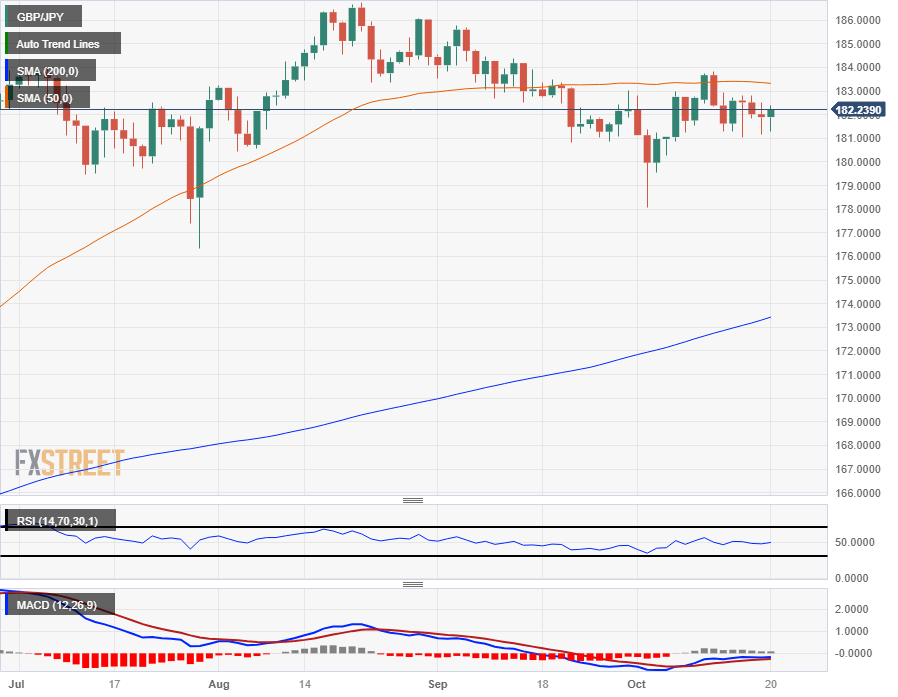 GBP/JPY Technical Levels