Share:

The Euro is seeing a thin rebound on Friday after declining steadily through the week.
Concerns are mounting that the ECB may have to move more to cap inflation.
Up Next: Tuesday sees EU GDP, US CPI inflation readings.
The EUR/USD is seeing a minor rebound on Friday as the US Dollar (USD) cools its heels following a week of steady gains that sent the Euro (EUR) down almost a full percent top-to-bottom from Monday's peak of 1.0756.
EU data was relatively thin this week with much of the market focus going to central bank figures. European Central Bank (ECB) President Christine Lagarde avoided making any waves on Friday during a public appearance, and markets are still chewing developments after Federal Reserve (Fed) Chairman Jerome Powell came out with unexpectedly hawkish comments on Thursday.
Fed Chair Powell noted that the Fed isn't entirely confident that they have done enough to reign in inflation, and market corkscrewed on the statements.
EU GDP, US CPI in the pipe for next week
Next week sees EU Gross Domestic Product (GDP) figures on Tuesday, to be followed by US Consumer Price Index (CPI) inflation figures.
The EU's third quarter GDP  is expected to hold steady for both the monthly and annualized figures, forecast at -0.1% and 0.1% respectively.
On the US side, headline CPI for October is expected to fall back from 0.4% to 0.1%, while Core CPI for the year into October is expected to hold steady at 4.1%.
With the Fed's hawkish stance and renewed market focus on central bank statements, next week's growth and inflation figures are set to have an increased impact if figures deviate from forecasts.
EUR/USD Technical Outlook
The Euro has spent most of the week hung up on the 1.0700 price level after Monday's clean rejection from 1.0750.
The EUR/USD has been capped off by the 200-day Simple Moving Average (SMA) near 1.0800, with a bearish 50-day SMA putting a floor underneath prices, leaving the pair strung in the middle as prices consolidate between the moving averages.
Despite still being down over 5% from July's peaks near 1.1275, the EUR/USD pair has been steadily grinding higher from early October's swing low into 1.0450.
EUR/USD Daily Chart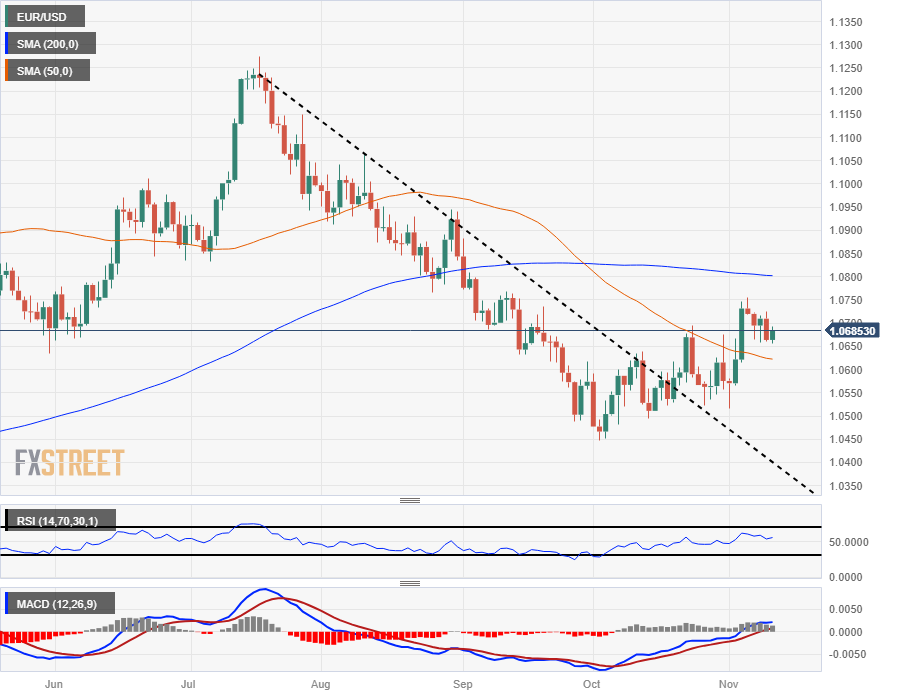 EUR/USD Technical Levels