Share:

The EUR/GBP climbed to a fresh five-month high at 0.8740 on Friday, but the Euro bid proves short-lived.
The Euro is set to close out Friday's trading session in the red, but still sees green for the week against the Pound Sterling.
Next week sees EU & UK PMI double-header on Tuesday.
The EUR/GBP caught a quick boost into fresh highs near 0.8740 before markets reversed the day's market flows, taking the Euro (EUR) back down against the Pound Sterling (GBP) into the red for Friday, though the EUR/GBP is still closing out a successful trading week with the pair up over 0.6% from Monday's opening prices.
UK Retail Sales firmly missed the mark on Friday, with retailer receipts declining 0.9% in September compared to August's 0.4% gain, completely flubbing the forecast -0.3%. The weak UK took the GBP out at the knees and let the Euro climb to a fresh five-month high before broad-market sentiment reversed course heading into the Friday close, sending the EUR/GBP back below the day's opening bids, leaving the pair settling into the 0.8700 handle.
Traders will be able to take a breather on economic data until next Tuesday, which kicks things off with UK labor figures, followed by a double showing of EU and UK Purchasing Manager Index (PMI) survey results.
Markets are anticipating a slight improvement in August's Employment Change, which is expected to tick upwards from -207K to -198K as investors hope for a slowdown in the UK's employment decline.
The EU Composite PMI for October is expected to improve mildly from 47.2 to 47.4, while UK PMIs for the same month are forecast to improve from 48.5 to 48.8.
EUR/GBP Technical Outlook
It's been all gains for the Euro since hitting a near-term low of 0.8616 against the Pound Sterling, and despite the intraday uptick on Friday, the EUR/GBP is seeing significant risk of getting hung up on the 200-day Simple Moving Average (SMA) currently testing into the chart region just below the 0.8700 handle.
Technical support is coming from the 50-day SMA currently building out a floor from 0.8620, and the EUR/GBP sees potential for consolidation as the two moving averages close their jaws around price action.
EUR/GBP Daily Chart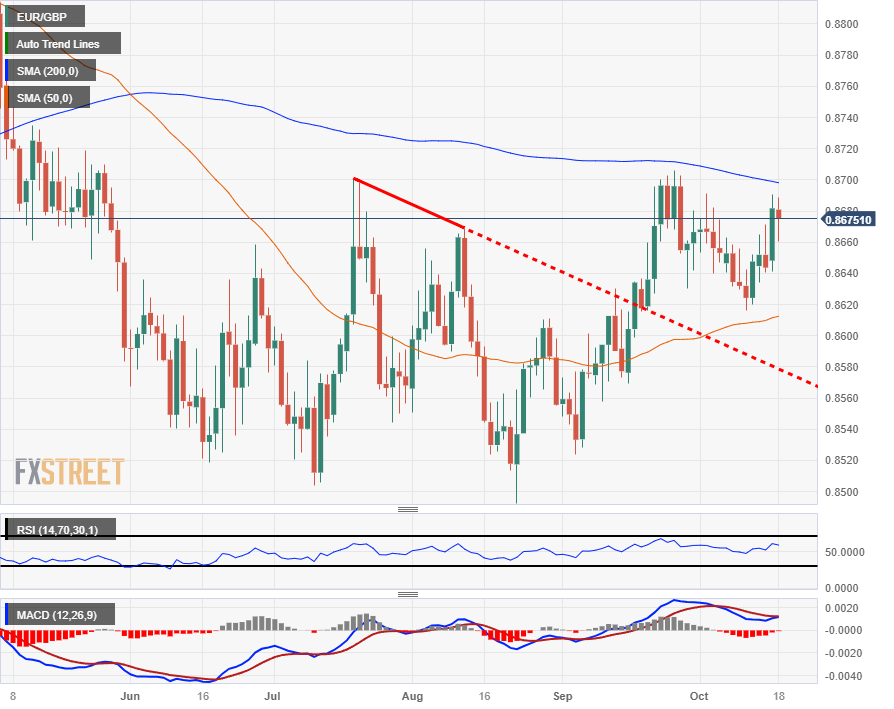 EUR/GBP Technical Levels