Share:

Crude Oil barrel bids are on the high side for Thursday.
Global supply constraints remain a key narrative for light sweet crude.
WTI traders may have overshot their expectations on increasing supply after Wednesday's announced Venezuela sanction easing.
West Texas Intermediary (WTI) barrel prices are getting pushed back into recent highs for Thursday, rising into $88.30 per barrel after kicking the day off with an early decline into $85.50.
Crude Oil markets saw some slight easing on Wednesday after it was announced that US-led sanctions on Venezuela will be lifted, allowing the South American country to return to exporting into the global market, but investors may have overrun their own expectations on how quickly that supply uptick would impact broader markets.
Adding to supply constraint concerns, the Energy Information Administration (EIA) showed on Wednesday that US Crude Oil reserves continue to dwindle down rapidly, with Crude Oil stocks for the week into October 13th declining by 4.491M, far below the 0.3M drawdown traders were expecting and taking a huge chunk out of the previous week's 10.176M barrel buildup.
The Organization of the Petroleum Exporting Countries (OPEC) is reportedly unconcerned about the addition supply provided by Venezuela returning to crude markets, with the oil cartel keeping global production firmly below demand, fueled largely in part by Saudi Arabia and Russia's combined 1.3 million bpd production and export cuts that were extended into the year-end.
Despite waning demand amidst China's steepening economic slump, fossil fuels remain firmly undersupplied, and Middle East geopolitical concerns, fueled by the Gaza Strip escalation in the conflict between Israel and Palestinian Hamas, continue to weigh on energy traders with the critical Strait of Hormuz chokepoint nearby.
WTI Technical Outlook
Crude Oil's Thursday surge into fresh highs is seeing WTI hit its highest bids in almost two weeks with US barrel prices aimed straight at $90.00/bbl.
WTI has seen a clean rejection of the 50-day Simple Moving Average (SMA) as October's recovery from $80.63 turns into a full-on bullish rebound.
A continued push into the top end will see WTI challenging late September's peaks at the $94.00 handle, while the downside remains capped by fundamental market conditions with global oil supply undershooting demand on a consistent basis.
Thursday sees bottom-to-top gains of over 4% for WTI, with more on the way if Crude Oil bidders can get barrel prices pushed over the $90.00 handle.
WTI Daily Chart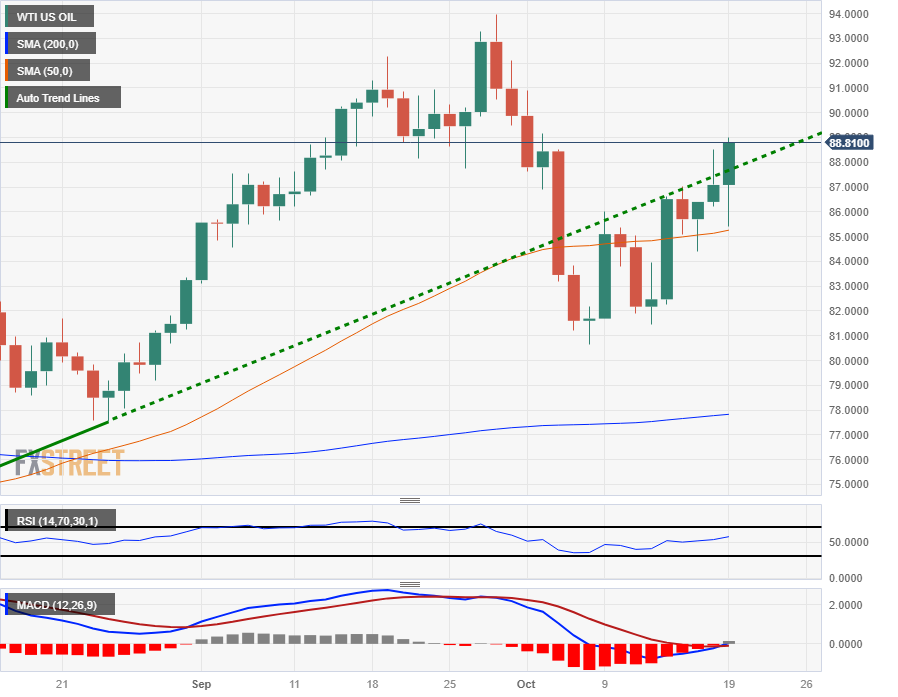 WTI Technical Levels