Share:

Crude Oil prices are seeing some froth on Tuesday as energies get pulled in multiple directions.
WTI barrel bids bounce between $86 and $84.50.
Crude supply constraints may not be as bad as originally thought, but geopolitical stress continues to weigh.
West Texas Intermediary (WTI) is seeing some back-and-forth on Tuesday, but remains constrained near the $85.00/bbl price point as energies markets weigh inconsistent outcomes for crude oil markets.
The Israel-Hamas conflict escalation continues to stress out Crude Oil traders, but lack of immediate negative impact is keeping prices capped off. Geopolitical spillover could threaten stability in the nearby Strait of Hormuz, a major energy supply flow-through point that sees nearly a fifth of all global energy trade.
Deep supply cuts from member states of the Organization of the Petroleum Exporting Countries (OPEC) continue to keep crude barrel prices pinned higher, specifically Saudi Arabia and Russia's combined 1.3 million bpd production and export cuts. Despite major supply constraints that threaten to undershoot global demand, China's fossil fuels demand continues to wane as their domestic economy slows down more than expected, leaving more oil barrels on the table.
Iran recently re-entered global oil markets after the US eased export restrictions on the country, and lack of evidence that Iran was directly involved in the recent Israel-Hamas conflict escalation sees the US avoiding re-instating restrictions for the time being.
Hopes for a US-Venezuela crude oil exporting deal remain high with the US reaching a preliminary deal to allow the South American country to return to global oil exporting markets in exchange for a monitored presidential election next year in Venezuela.
A return for Venezuelan crude exports would be a surge for oil markets that already sees crude reserves rebounding firmer and faster than expected as global demand struggles to eat up enough of the already-constrained supply.
WTI Technical Outlook
Intraday action on the WTI chart is getting capped off by the 50-hour Simple Moving Average (SMA) near $85.75 as Crude Oil prices struggle to regain last week's late swing into the $87.00 handle, and Tuesday's early push into $86.00 proved to be short-lived as WTI Crude Oil barrels get stuck to the $85.00 level.
Daily candlesticks see WTI bids stuck to the 50-day SMA as energies struggle to push prices in either direction meaningfully. Crude Oil initially rose for four consecutive months from a 2023 low of $64.31 to a thirteen-month high of $93.98, but WTI is set to flub the trend and see softening prices for October as forward-looking supply constraint fears fail to solidify.
WTI Daily Chart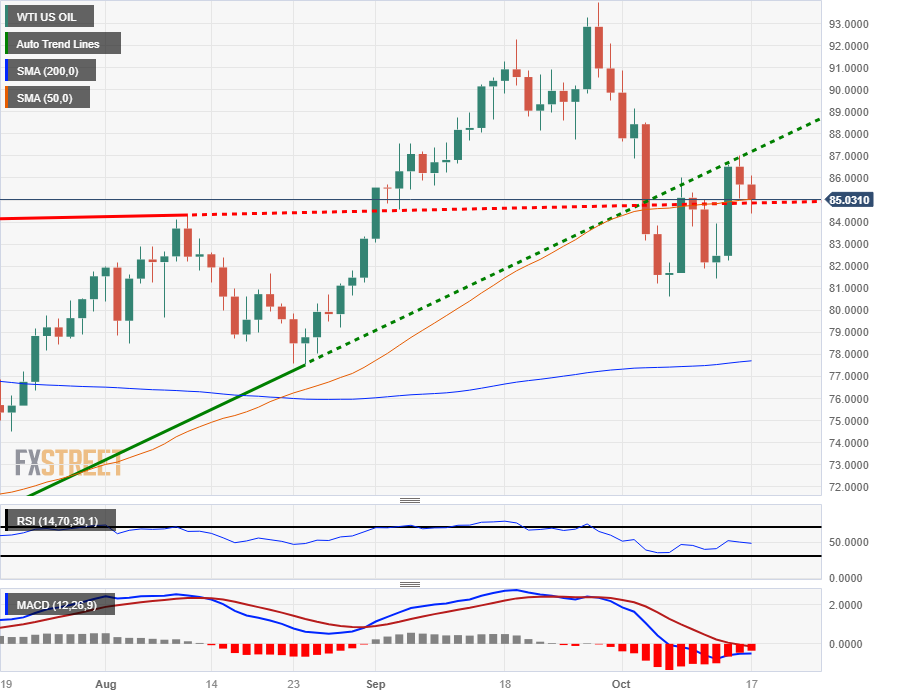 WTI Technical Levels