Share:

The Canadian Dollar is bounding higher, extending weekly gains.
Canada Unemployment Rate missed forecasts, hampering CAD upside.
CAD gains 17.5K jobs, entirely part-time employment; wage growth also lower.
The Canadian Dollar (CAD) is seeing further upside against the US Dollar (USD) after a US Nonfarm Payrolls (NFP) report that came in below expectations, printing at its lowest reading since February of 2021.
The US data print is a welcome miss for investors who have been hoping for cooling economic data from the US to convince the Federal Reserve (Fed) that there is no need for further rate hikes and to help push the US central bank along toward eventual rate cuts.
Daily Digest Market Movers: Canadian Dollar propped up by US data miss, even as CAD data sours
The CAD gains after US NFP prints at 150K, its lowest reading in almost three years.
US wages also missed the mark, MoM Average Hourly Earnings only rose 0.2% (forecast 0.3%, previous revised from 0.2% to 0.3%).
Canada Net Change in Employment came in below expectations at 17.5K, 22.5K expected, 63.8K previous.
Canada job additions reveal low-quality data, jobs additions entirely in part-time category as full-time jobs evaporate.
Majority of job additions are in services sector, goods sector only added 7.5K jobs.
Canada Unemployment Rate for October comes in at 5.7%, its highest since February 2022 and accelerating above 5.6% forecast, extends from September's 5.5% print.
US Unemployment Rate also ticks higher to 3.9% after markets expected a steady hold at 3.8%.
US ISM Services Purchasing Manager Index (PMI) also misses, declining to 51.8 for October.
Technical Analysis: Canadian Dollar seeking its highest prices in almost two weeks as US Dollar recedes
The Canadian Dollar (CAD) is finding gains as the US Dollar (USD) recedes against the broader market. 
The USD/CAD pair fell to an intraday low of 1.3665 following the NFP print, inches away from cracking a two-week low beyond 1.3661.
The USD/CAD is set for a decline back into the 50-day Simple Moving Average (SMA) near 1.3625, with long-term declines seeing a price floor near 1.3500 at the 200-day SMA.
On the top side, a bullish break will need to find enough momentum to crack the 1.3900 handle before the USD/CAD can take another run at 12-month highs beyond late 2022's peak of 1.3978.
USD/CAD Daily Chart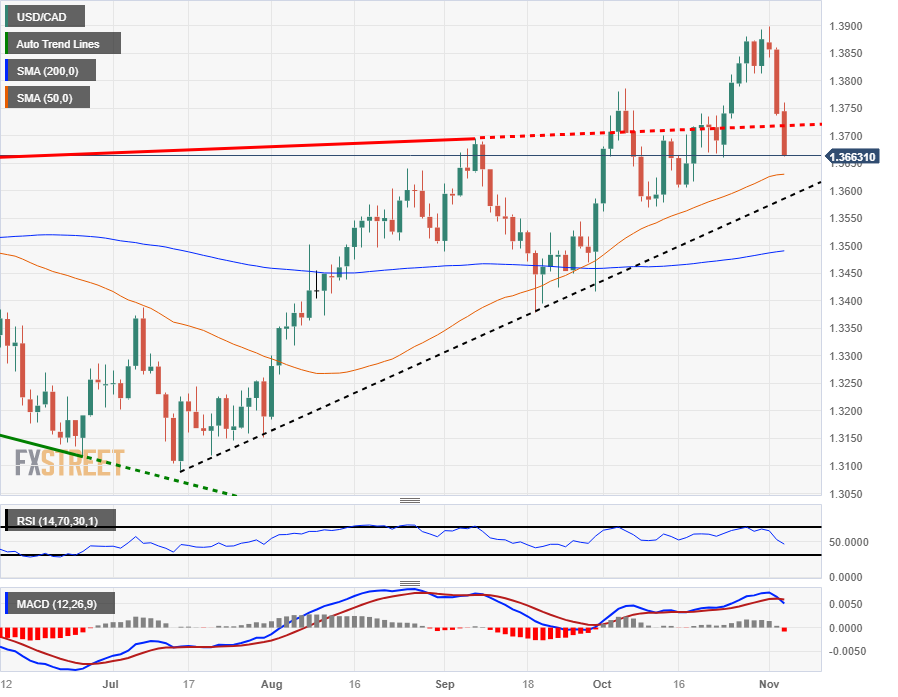 Canadian Dollar FAQs
The key factors driving the Canadian Dollar (CAD) are the level of interest rates set by the Bank of Canada (BoC), the price of Oil, Canada's largest export, the health of its economy, inflation and the Trade Balance, which is the difference between the value of Canada's exports versus its imports. Other factors include market sentiment – whether investors are taking on more risky assets (risk-on) or seeking safe-havens (risk-off) – with risk-on being CAD-positive. As its largest trading partner, the health of the US economy is also a key factor influencing the Canadian Dollar.
The Bank of Canada (BoC) has a significant influence on the Canadian Dollar by setting the level of interest rates that banks can lend to one another. This influences the level of interest rates for everyone. The main goal of the BoC is to maintain inflation at 1-3% by adjusting interest rates up or down. Relatively higher interest rates tend to be positive for the CAD. The Bank of Canada can also use quantitative easing and tightening to influence credit conditions, with the former CAD-negative and the latter CAD-positive.
The price of Oil is a key factor impacting the value of the Canadian Dollar. Petroleum is Canada's biggest export, so Oil price tends to have an immediate impact on the CAD value. Generally, if Oil price rises CAD also goes up, as aggregate demand for the currency increases. The opposite is the case if the price of Oil falls. Higher Oil prices also tend to result in a greater likelihood of a positive Trade Balance, which is also supportive of the CAD.
While inflation had always traditionally been thought of as a negative factor for a currency since it lowers the value of money, the opposite has actually been the case in modern times with the relaxation of cross-border capital controls. Higher inflation tends to lead central banks to put up interest rates which attracts more capital inflows from global investors seeking a lucrative place to keep their money. This increases demand for the local currency, which in Canada's case is the Canadian Dollar.
Macroeconomic data releases gauge the health of the economy and can have an impact on the Canadian Dollar. Indicators such as GDP, Manufacturing and Services PMIs, employment, and consumer sentiment surveys can all influence the direction of the CAD. A strong economy is good for the Canadian Dollar. Not only does it attract more foreign investment but it may encourage the Bank of Canada to put up interest rates, leading to a stronger currency. If economic data is weak, however, the CAD is likely to fall.