Share:

The Canadian Dollar is seeing pullback as investors seek Greenback pastures.
Canada Trade Balance improves but fails to inspire CAD bidding.
Broad-market risk sentiment is wobbling, sending safe havens higher.
The Canadian Dollar (CAD) is moving lower, giving up last week's gains against the US Dollar (USD) as broader market sentiment twists on Tuesday. A large miss for Chinese trade data coupled with hawkish statements from Federal Reserve (Fed) officials are jointly hampering risk appetite.
Canada trade balance figures improved over previous figures, Exports and Imports both printed slight gains for September. Canadian Exports edged higher to $67.03 billion from $65.28 billion (revised upward from $64.56 billion), while Imports saw minor gains to $64.99 billion from August's $64.33 billion, which was also revised higher from $63.84 billion. 
Canada's overall International Merchandise Trade for September increased to CAD $2.04 billion from August's $950 million, revised higher from $720 million.
Daily Digest Market Movers: Canadian Dollar paring back recent gains as markets rotate into US Dollar once more
The CAD is losing steam with global markets seeking safe harbor as last week's risk-on mood evaporates.
A miss for China trade figures sent early Tuesday's markets into the red after Chinese Trade Balance numbers unexpectedly declined.
Hawkish Fed appearances are chipping away at last week's rally as Fed officials reiterate that the US central bank is not pre-committed to an end of rate hikes.
Crude Oil prices are slumping in risk-off flows, further cutting support from the CAD.
Russia reaffirmed their production reduction, potentially extending through next year's first quarter, to little Crude Oil market effect.
The US is acquiring additional Crude shipments to shore up national reserves, and throughput at both Chinese and US refineries is missing demand expectations, leaving more barrels in the pipeline than expected.
US Treasury yields are easing, 10-year T-note down to 4.587% from 4.66%.
Technical Analysis: Canadian Dollar heading back to 1.3800 as US Dollar bids return
The Canadian Dollar (CAD) has pared back about half of last week's gains against the US Dollar (USD), sending the USD/CAD back toward the 1.3800 handle after taking a clean bounce from the 50-day Simple Moving Average (SMA) near 1.3630.
A bullish continuation from here will see the pair marking an accelerating pace of higher lows as the USD/CAD begins to break away to the topside from a bullish trendline rising from July's bottom bids near 1.3100. The near-term technical ceiling for bullish Greenback bidders sits at the last swing high into the 1.3900 handle.
The US Dollar is up over 5% against the Loonie from 2023's low bids of 1.3092 and up over 1.5% on the year.
USD/CAD Daily Chart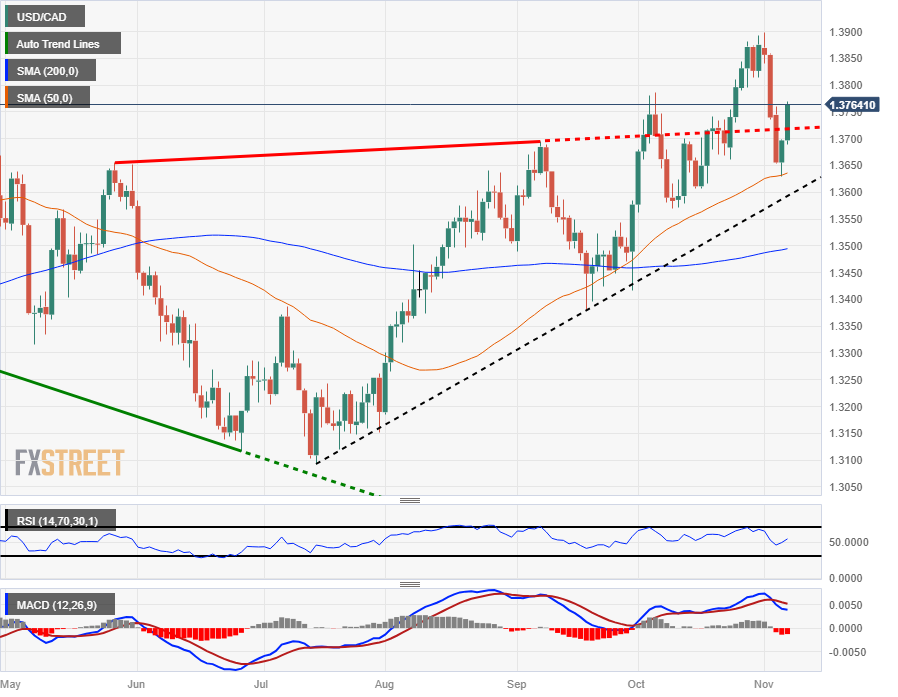 Canadian Dollar price today
The table below shows the percentage change of Canadian Dollar (CAD) against listed major currencies today. Canadian Dollar was the weakest against the US Dollar.
| | | | | | | | | |
| --- | --- | --- | --- | --- | --- | --- | --- | --- |
|   | USD | EUR | GBP | CAD | AUD | JPY | NZD | CHF |
| USD |   | 0.23% | 0.42% | 0.44% | 0.90% | 0.28% | 0.39% | 0.08% |
| EUR | -0.23% |   | 0.20% | 0.22% | 0.66% | 0.06% | 0.21% | -0.10% |
| GBP | -0.42% | -0.20% |   | 0.02% | 0.48% | -0.14% | 0.00% | -0.32% |
| CAD | -0.44% | -0.22% | -0.01% |   | 0.47% | -0.16% | -0.02% | -0.33% |
| AUD | -0.91% | -0.69% | -0.49% | -0.46% |   | -0.62% | -0.48% | -0.81% |
| JPY | -0.29% | -0.06% | 0.15% | 0.14% | 0.62% |   | 0.15% | -0.18% |
| NZD | -0.42% | -0.20% | 0.00% | 0.02% | 0.49% | -0.15% |   | -0.33% |
| CHF | -0.10% | 0.11% | 0.33% | 0.34% | 0.81% | 0.18% | 0.32% |   |
The heat map shows percentage changes of major currencies against each other. The base currency is picked from the left column, while the quote currency is picked from the top row. For example, if you pick the Euro from the left column and move along the horizontal line to the Japanese Yen, the percentage change displayed in the box will represent EUR (base)/JPY (quote).
Risk sentiment FAQs
In the world of financial jargon the two widely used terms "risk-on" and "risk off" refer to the level of risk that investors are willing to stomach during the period referenced. In a "risk-on" market, investors are optimistic about the future and more willing to buy risky assets. In a "risk-off" market investors start to 'play it safe' because they are worried about the future, and therefore buy less risky assets that are more certain of bringing a return, even if it is relatively modest.
Typically, during periods of "risk-on", stock markets will rise, most commodities – except Gold – will also gain in value, since they benefit from a positive growth outlook. The currencies of nations that are heavy commodity exporters strengthen because of increased demand, and Cryptocurrencies rise. In a "risk-off" market, Bonds go up – especially major government Bonds – Gold shines, and safe-haven currencies such as the Japanese Yen, Swiss Franc and US Dollar all benefit.
The Australian Dollar (AUD), the Canadian Dollar (CAD), the New Zealand Dollar (NZD) and minor FX like the Ruble (RUB) and the South African Rand (ZAR), all tend to rise in markets that are "risk-on". This is because the economies of these currencies are heavily reliant on commodity exports for growth, and commodities tend to rise in price during risk-on periods. This is because investors foresee greater demand for raw materials in the future due to heightened economic activity.
The major currencies that tend to rise during periods of "risk-off" are the US Dollar (USD), the Japanese Yen (JPY) and the Swiss Franc (CHF). The US Dollar, because it is the world's reserve currency, and because in times of crisis investors buy US government debt, which is seen as safe because the largest economy in the world is unlikely to default. The Yen, from increased demand for Japanese government bonds, because a high proportion are held by domestic investors who are unlikely to dump them – even in a crisis. The Swiss Franc, because strict Swiss banking laws offer investors enhanced capital protection.