Share:

The AUD/USD has pushed into a 2-month high as the US Dollar slumps post-NFP.
Market sentiment has flipped firmly risk on as investors no longer fear more Fed rates.
RBA due next week, markets expecting an additional 25 bps.
The AUD/USD is pinning into a nine-week high bid above the 0.6500 handle as the Aussie (AUD) capitalizes on US Dollar (USD) weakness following a flubbed Nonfarm Payrolls reading, and risk-on market sentiment is sending the Aussie into its sixth green candle out of the last seven consecutive trading days.
Global markets turned the US Dollar inside out, dumping the safe haven asset and stepping into riskier assets following a worse-than-expected NFP reading that saw the US add a scant 150 thousand jobs in October, below the forecast 180K addition and slumping from September's bumper 297K print (revised down from 336K) to the indicator's worst reading since February 2021.
US data down = risk appetite up
Cooling US data is helping to confirm that the Federal Reserve (Fed) is done with rate hikes, and investors are now turning forward to start anticipating a future rate cut cycle from the US central bank. With markets hoping for an easing monetary policy outlook to make borrowing and lending cheaper once again, negative economic data for the US will remain market-positive as recession factors will push the Fed towards rate cuts sooner rather than later.
Next week sees the Reserve Bank of Australia (RBA) due to deliver its latest rate call on Tuesday, and markets are expecting the Aussie central bank to deliver a 25 basis point hike as inflation continues to simmer at the edges of the Australian economy.
AUD/USD Technical Outlook
The Aussie's technical recovery from October's lows near the 0.6300 level sees the AUD/USD climbing halfway towards the 200-day Simple Moving Average (SMA) currently turning down into 0.6625.
With the AUD/USD cleanly shearing the 50-day SMA near 0.6400, the pair is set to mark in a topside Friday close near 0.6515.
AUD/USD Daily Chart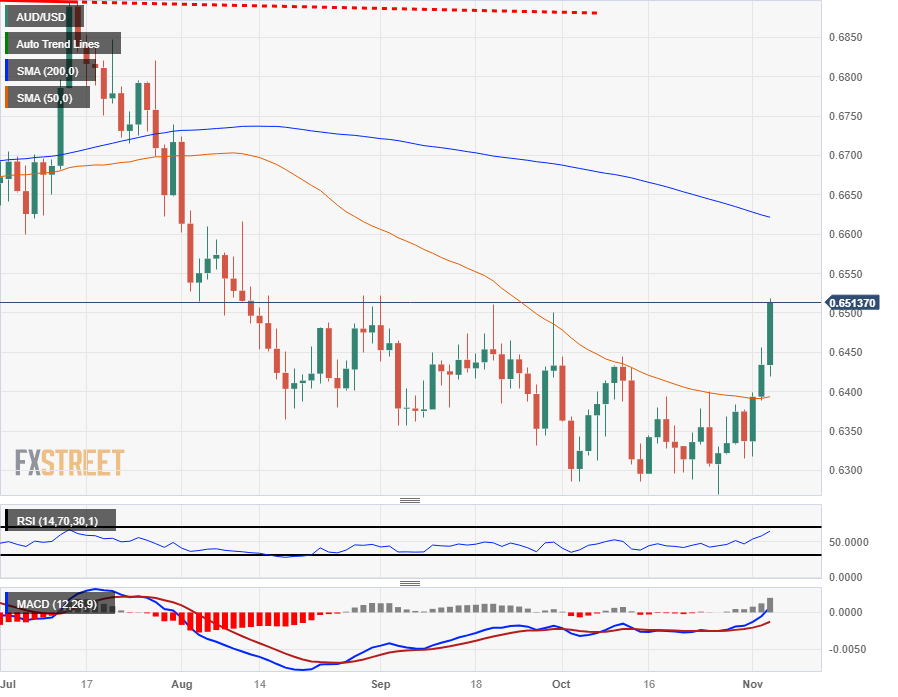 AUD/USD Technical Levels