Share:

The Aussie has rebounded firmly against the Kiwi in recent days, climbing nearly 2% from October's low.
Despite the gains, the AUD's momentum could evaporate quickly with the pair stuck in familiar midrange territory.
Thursday sees a fresh round of Aussie labor data which could kick off the next leg.
The AUD/NZD heads into a Thursday market session with Australian labor data on the cards, and investors will be looking for the Australian Unemployment Rate to hold steady at 3.7% for September, while the Aussie Employment change is expected to add at least 20K jobs in September compared to August's 64.9K.
Late Thursday will also see New Zealand Trade Balance figures as the Kiwi heads into the early Friday trading window, and Kiwi bidders will be hoping for a bounce in the headline annualized reading for September, which last came in at $-15.54B.
AUD/NZD Technical Outlook
The Aussie has rebounded firmly against the Kiwi as the NZD flubs market value, sending the AUD/NZD into median prices at the 200-day Simple Moving Average (SMA), with September's last swing high at 1.0918.
The Antipodean currency pair remains relatively on-balance for 2023 as the two currencies jockey but struggle to meaningfully develop long-term momentum in either direction. A technical floor has been priced in from the last swing low into 1.0640.
AUD/NZD Daily Chart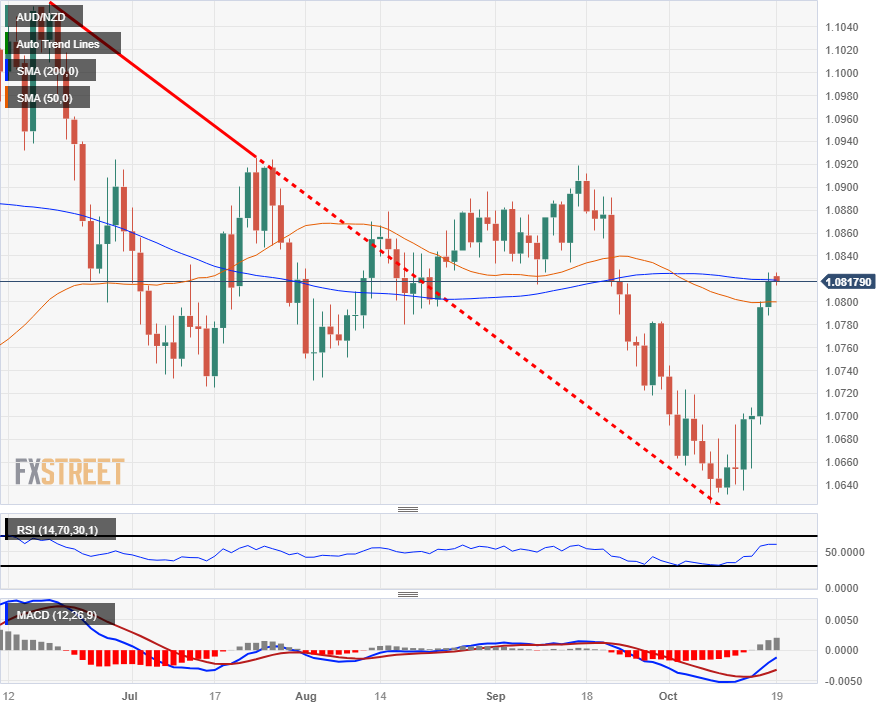 AUD/NZD Technical Levels