Share:

The AUD/NZD saw firm gains on the week, Aussie gains nearly 1.3% from Monday opening bell.
Kiwi drastically underperforms its closest neighbor, gives up most of its gains from September's late jump.
Aussie touched a fresh one-month high ahead of Friday's market close.
The AUD/NZD finished up a strong trading week with the Aussie (AUD) gaining against the Kiwi (NZD) in its best single-week performance since early July, closing the Friday up over 1.25% from Monday's opening bids.
It's been a thin week on the economic calendar for both the Aussie and the Kiwi, with New Zealand Trade Balance revealing little change in the balance of NZ export/import figures, and Australian labor data coming in mixed on Thursday with a worse-than-expected jobs report showing only 6.7K jobs were added in September compared to the 20K forecast, and stumbling far from the 63.3K August report (revised from 64.9). On the plus side, the Australian Unemployment Rate improved from 3.7% to 3.6%.
New Zealand markets will be dark on Monday for the Labor Day extended weekend, leaving AUD/NZD traders to contemplate the early week's October S&P Global Purchasing Manager Index (PMI) figures for Australia. The Aussie PMI figures last came in mixed for September, with the composite reading printing at 51.5. The Manufacturing component for September declined to 48.7, while the services side showed a barely-positive 51.8.
AUD/NZD Technical Outlook
The Aussie's aggressive rise against the Kiwi this week sees the AUD/NZD eating away a majority of September and early October's losses, but bullish momentum is set to return to consolidation as the pair closes out Friday action tangling with the 200-day Simple Moving Average (SMA), and AUD/NZD traders will enter Monday markets looking at familiar consolidation for the pair.
The 1.0800 major handle represents a significant cycling point for the AUD/NZD, and the trick for Aussie bulls will be to push the pair just a little bit further into the 1.0900 handle, while the downside remains open for Kiwi bidders to take the pair back into the last swing low near 1.0650.
AUD/NZD Daily Chart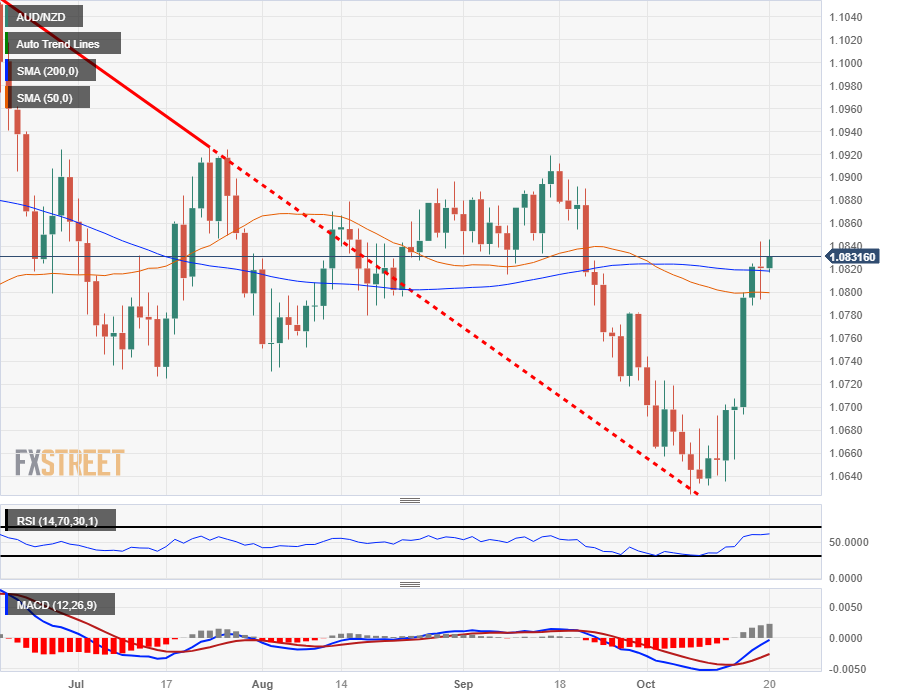 AUD/NZD Technical Level